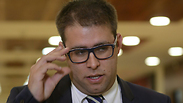 MK Hazan. Why are all other Knesset members keeping quiet?
Photo: George Ginsburg
I wonder what would have happened if it were the other way around: If the Labor Party were in power with a coalition of only 61 Knesset members, and one of them would have sinned and threatened the government's survival. Would Benjamin Netanyahu, as the leader of the opposition, have promised to remove one of his own MKs from Knesset votes in order to compensate for the disgraced Labor MK until his matter would be clarified, thereby saving the Isaac Herzog government?

I believe one doesn't have to be Reuven Adler, who led the Zionist Union's election campaign, to realize that the answer is no. The possibility that Netanyahu would have done anything to save a government which isn't headed by him is delusional. He would have most likely grabbed the opportunity to bring it down with both hands and wouldn't have even imagined the possibility of withholding one of his votes.

Disgraced MK

Likud MK Oren Hazan planning libel suit after report claims he was actively involved in criminal activity at a casino in Bulgaria, including an all-night drug binge.

You're saying it's not nice? That's possible. But that's why Netanyahu is the prime minister and Herzog – well, Herzog isn't. So it's true that the opposition leader proved on Tuesday that he is everything we thought he is: Decent, nice, a gentleman. He really is okay. The problem is that no one is looking for a righteous among the nations to head the government, but for a leader who will seize opportunities, particularly an opportunity like this one, which was singlehandedly created by the Likud.

What did Herzog say during the election campaign? An upheaval! An upheaval! Well, there is no such thing. And if the Labor Party doesn't stop with these gestures, which only guarantee the survival of the Netanyahu coalition, it will never return to power. Knesset Member Shelly Yachimovich was right when she claimed on Tuesday that the opposition should not lend a hand to the coalition and help it clean up the mess it created on its own. In the evening, Herzog retreated and clarified that his gesture would be limited for a short period of time.

MK Oren Hazan, the man who has been opening all newscasts in the past two days, who according to the Channel 2 inquiry and the different testimonies solicited prostitutes and used hard drugs, is the deputy Knesset speaker, who could fill the role of the president of Israel when the president is incapacitated. He is a member of the Knesset's Foreign Affairs and Defense Committee and a few other committees which were given to him by Netanyahu just so that he would vote with the coalition.

It's unbelievable how easily people can make their way from casinos and brothels in Burgas to the Knesset plenum is unbelievable. It's unclear if his father, former MK Yehiel Hazan, eventually found the "brain" he was looking for in the Knesset basement after the affair in which he voted twice, using the panel of an absent MK. One thing's for sure: Even if he found the brain, his son didn't inherit it.

No one knows what will come out of the inquiry or investigation into MK Hazan's misdeeds in Bulgaria, and what can be done after the results come in. There is some justice in the claim that a person cannot be sentenced before the issue is clarified. But that does not justify the deafening silence of MKs from all camps, who kept their mouths shut on Tuesday and refused to say a word about the exposed affair.

I think that everyone understands that a person who ran a casino until recently, who is seen in shameful photos and who is the subject of such embarrassing testimonies, cannot serve as the young Likud members' representative in the Knesset, the slot Hazan was elected for after competing against former MK Moshe Feiglin's assistant. Netanyahu was so determined to keep Feiglin out of the Knesset, that he included Hazan on his list of recommended candidates. Netanyahu's voice wasn't heard on Tuesday.

One can only imagine seasoned politicians like Yisrael Katz, Silvan Shalom or Tzachi Hanegbi mocking the moral safety net which Herzog gave Netanyahu on Tuesday. They are the ones who would have been able to find the holes in this net in order to bring down their rival.

And imagine how much Netanyahu laughed. And he, as always, has the last laugh.