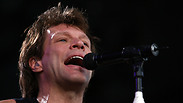 Jon Bon Jovi. Coming to Israel in the fall
Photo: Getty Images
The contract for American rock group Bon Jovi's upcoming concert in Israel has been officially signed in Germany, the show's producers announced in a press conference Tuesday morning. The band will perform at Tel Aviv's Yarkon Park on October 3.

Ticket sales begin on Wednesday at 6 pm and prices range from NIS 340 (about $88) for the lawn area to NIS 1,100 ($284) in the VIP complex with dinner and free alcohol. "Even those who purchase a regular ticket will get to be closer to the stage than in other concerts held at the park," the producers promised.

Welcome Back!

Four years after its last visit, English alternative rock group will perform at Menora Mivtachim Arena in Tel Aviv on July 30.

Bon Jovi is being brought to Israel by Guy Besser and Shay Mor Yosef of BlueStone Productions, in cooperation with Marcel Avram.

"The cost of the production is estimated at more than NIS 15 million," said Besser, who has already brought artists like Rihanna, the Backstreet Boys and OneRepublic to Israel with the BlueStone group. Marcel Avram was responsible for the arrival of Robbie Williams, Justin Bieber and Leonard Cohen.

Bon Jovi will arrive in Israel for the last show in its Asian concert tour, which includes 13 countries. The band members will land in Israel with more than 150 crewmembers after a concert in Dubai for a show of more than two and a half hours. The producers promised that the set list would include the band's greatest hits.

"We have been working on this project for half a year now," said producer Shay Mor Yosef. It's important to us to show people around the world that Israel is not what they see on CNN. This is a historical event and we hope the Israeli audience embraces it."

The Bon Jovi rock band was founded in New Jersey in 1983 and took the name of its singer Jon Bon Jovi. It has released 11 albums, all of which sold millions of copies in the US and around the world.

The band was nominated six times at the Grammy Awards in various categories and in 2007 won the award for best country band thanks to their single "Who Says You Can't Go Home."

Bon Jovi is responsible for the hits "It's My Life," "Living On A Prayer," and "You Give Love A Bad Name," just to name a few. The band remains one of the most popular and successful musical acts in the world.