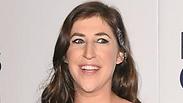 Mayim Bialik
Photo: Getty Images
Jewish American actress Mayim Bialik arrived in Israel on Tuesday and immediately tweeted: "It's good to be home."

Bialik, 39, is both an actress and a neuroscientist. She speaks Hebrew and is a distant relative of Israel's national poet, Hayim Nahman Bialik.
Landed in Irael. Survived a 14 hour flight with my kids. It's good to be home. https://t.co/Y8YuMMGfIk

— Mayim Bialik (@missmayim) June 23, 2015
She played the title character of NBC's "Blossom," a teenager living with her father and two brothers, from 1991 to 1995, and has been starring since 2010 in CBS's "The Big Bang Theory" as Dr. Amy Farrah Fowler (also a neuroscientist), a role for which she has been nominated for the Primetime Emmy Award for Outstanding Supporting Actress in a Comedy Series three times in a row

Bialik is an ardent supporter of the State of Israel. During Operation Protective Edge last summer she spoke out in Israel's defense and issued a tough response against people who verbally attacked her on her Facebook page:

"If you hate me for being Jewish or a supporter of the right of Israel to exist, kindly post on pages that support your opinions rather than trying to bully me and other people who are Jewish. I'm sorry there is so much hatred and miseducation, but we won't fix it by name calling Jewish celebrities, I promise.

"God bless America for letting us have our own opinions and God bless Israel for allowing Jews to have a home. I pray for a peaceful state for Palestinians who also seek peace and want to pursue it. Not sure there is more to say," she wrote.