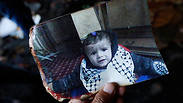 Picture of 18-month-old Ali Dawabsheh who was burned alive by Jewish arsonists
Photo: EPA
We're no better than our enemies
Op-ed: Jewish terrorists are just the messengers; there is a well-oiled system of incitement behind them which starts with the person who says the High Court should be razed with bulldozers, with those who stand on balconies and encourage lawbreakers and with those who reward violence.
It's over. If we thought it couldn't happen among us, that we're not like that, that Jews don't do such things, that only they can murder children, go into houses and shoot a baby point blank, burn families, execute murderous terror – that's it, it's over. We are, we can and we do. Burn children alive, execute murderous, inhuman, incomprehensible terror. And no, we're no better than them.

And let no one say that this is a lone incident. That we are talking about an insane person (when it's about us, it's always an insane person; when it's about them, it's murderous terrorists) – because it's not. It's not a lone incident either. The brutal murder of Mohammed Abu Khdeir has now been joined by the murder of an 18-month-old baby, Ali Dawabsheh of the village of Duma, and his brother and parents are still fighting for their lives.

Jewish Terror

Analysis: The Shin Bet has been dealing in the past year with a radical group of young messianic Jews aiming to bring down the Zionist state and replace it with a holy kingdom. In order to fulfill their goal, they are willing to sacrifice their lives and have no problem killing.

In order to understand just how horrific this is, imagine what we would say if it were the other way around: If Palestinians had thrown Molotov cocktails at a house and burned a Jewish family; if a Jewish baby had been burned alive. We would have been shocked by the cruelty, by the murderousness. Some of us would have said: Only the Arabs are capable of committing such a horrific act. After all, murderousness flows in their blood. We? Now way. We're not like that.

Well, we are. At least the writings on the wall leave no room for doubt. "Long live the Messiah" and "Revenge." That was the graffiti left on the walls near the scene of the terror attack (yes, a terror attack. A terror attack is not only when we are murdered). And who is this Messiah in the name of whom babies are murdered? And revenge for what?

So it may be true that we can count despicable murderers of this kind on the fingers of two hands, perhaps a bit more. No, not on fingers of one hand. We are way beyond that – from members of the Jewish Underground, through Ami Popper, Baruch Goldstein, Eden Natan-Zada, Jack Teitel – and that's just a partial list. And what about the torched and destroyed mosques, and the daily harassment and damage to property and people which the masters of the land, the Hilltop Youth, the price tag members, carry out on a daily basis?

So let's stop calling them by that soft name, Hilltop Youth, as if they were children in a youth movement. Or the name they have chosen for themselves – "price tag." We are talking about terrorists. And it's not enough to say "terror is terror," as Prime Minister Benjamin Netanyahu said over the weekend. You must also treat these terrorists like you treat non-Jewish terror organizations.

But let's not only go to the hands contaminated with blood, to the hand which threw the Molotov cocktail, to the hand which lit the match, or to the hand that pulled the trigger. Those are just the messengers. There is a well-oiled system of incitement behind these murderers.

And it doesn't start in the social networks. It starts with the person who suggests razing the High Court with bulldozers, with those who stand on balconies and encourage lawbreakers, with those who reward violence – 300 housing units in exchange for leaving illegal buildings, with those who show forgiveness towards thugs who hit police officers, who throw stones at IDF officers and hurl feces and urine at soldiers.

And don't talk to us about errant weeds. We are talking about entire flowerbeds. Don't condemn the criminal acts after they happen. Prevent them. But first of all, catch them. And punish them the exact way they should be punished: Like members of a terror organization.

The massacre of the family from the village of Duma must be a turning point in our attitude towards the murderers among us, as well as towards those who legitimize them through their words. Because it's time to tell the truth, the heartbreaking but inevitable one: After a generation of right-wing rule, we have developed a race, as Ze'ev Jabotinsky wrote. Not proud, not generous, but definitely cruel.