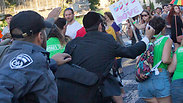 Yishai Shlissel attacks marchers at Jerusalem Pride Parade
Photo: AP
I've been grappling with Judaism for many years, from about the age of five, when I realized I was probably an atheist, and a lot before I realized I was a lesbian. My hostility towards religion has not been particularly reasoned. I considered (and still do) faith in a higher power to be a far-fetched idea, and that was pretty much all I had to say about religion.

All that changed completely about two years ago, when I got to know a genuine haredi family through the Havruta project - a family that became my second home, and my great love. A mother, father and seven children living in a two and a half bedroom apartment on the suburbs of Bnei Brak. Over the past two years, I've been spending at least half of my time in Bnei Brak, feeling comfortable driving down its alleyways as if they were those of Tel Aviv, haggling over a price in its stores and feeling at home. How do you get from Hazon Ish Street to Ha-Rav Kook? Easy, through Rabi Akiva.

All Talk, No Action

Op-ed: The two hate crimes which shocked Israelis over the weekend drew condemnations from all parts of the political spectrum, but it's unlikely there will be any action to prevent the next attacks.

Naturally, my friendship with religious Jews has led to quite a few heated arguments. Other than throwing plates at one another, we've done it all. We yelled, slammed doors, pulled hair - but it all ended with half a smile. I make the argument that Judaism is a chauvinistic and arcane religion, they give me some Yiddishkeit about a compassionate, divine and eternal religion. All glorious is the king's daughter within the palace? Women are invalid as Halachic witnesses? A conversation with a woman is a waste of time and she belongs at the back of the bus?

Forget it, they say in tune, Judaism is protective over women and elevates them above all. The thing that stands out most when talking to haredim is their lack of willingness to admit that Halacha laws, and their public, need an update.




Last Thursday something snapped within me, when I heard about the stabbing attack at the Jerusalem Pride Parade. Two days ago, when 16-year-old Shira Banki succumbed to her wounds, I felt the fracture turn into a real abyss. Despair.

It's time to remove the facade of pleasantness and say: Original Judaism, the manufacturer's version, is harsh, judgmental and racist - just as much as it is beautiful and exalted. Delving into the depths of the Bible paints the picture of a violent and bloody reality, and digging into the Mishnah and the Talmud reveals infuriating differences between men and women and exposes the pettiness of many Halacha laws. All of this is done under the cover of endless philosophizing of men and even more men. Ultra-Orthodox Jews' attempt to live today according to these ancient perceptions is absurd in my opinion, but it would've been perfectly acceptable if it was limited to their courts. What you'd call "their prerogative."

The most infuriating thing haredim like to throw in our face is their "full wagon" compared to our "empty wagon."

"What values are you teaching your children?" they ask. This is actually a question that is easy to answer: Secularism, mine at least, is a worldview that has been developed by generations of humans and is based on the values of enlightenment - humanism and tolerance, equality and freedom, civil rights and a ban on discrimination. Is there even one value or an idea in secularism that would lead a person to take a knife and kill? I can't think of even one. But what about the laws of the "Holy Bible"? Have you read the fine print?

Friends, it's time for an update. Publicly announce in all of your habitats and breeding grounds that actions based on Torah laws that determine who will be "put to death" - are heinous crimes in our time, which even the Holy One Blessed be He would not accept. Find the inciting rabbis - and arrest them. If you don't, the next "Torah-based" murder is only a matter of time.