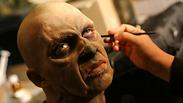 Zombies, made in Israel. On the set of 'Jeruzalem'
Last year was one of the biggest for Israeli comedies. "Zero Motivation," "Kicking Out Shoshana" and "Hill Start" were the refreshing hits of the summer, drawing big local crowds to cinemas. This year, it seems that wave has abated, most likely due to Hollywood blockbusters overshadowing smaller films from Israel and the rest of the world.
Hollywood has released big-budget superhero movies and action thrillers this year, and modestly-funded Israeli productions find it hard to compete with that kind of richness and spectacle. A lost cause? Perhaps. But that's not stopping ambitious Israeli filmmakers from stepping into the arena and trying their hand at new and alternative genres.
This week sees the premiere of science fiction comedy "OMG, I'm a Robot?!" by young filmmakers Tal Goldberg and Gal Zelezniak, who took their vision quite far in their CGI-filled feature debut. The film doesn't delve into terribly deep philosophical subjects, but it has plenty of geeky references in it, as does "What Could Happen?", a seemingly-mundane slapstick comedy starring Ilan Kovach and Lior Duvdevani, which shows fantastical elements from the "Lord of the Rings" series and "Dungeons and Dragons" cultures. Director Shay Kanot's "Ibiza" is packed with references to Star Wars, with vintage franchise shirts and lightsabers aplenty.
Those three films, cool and breezy summer viewings, are comedies with an alternative twist, each of its own kind. But Israeli cinema has more offerings in the pipeline, from the mystery, horror and thriller genres. This modest wave of films is replacing, for now, comedies as the current trend. There was a time when these films could only be screened at specific festivals and events (such as the sci-fi-centric Utopia Festival), but today they're being given wide releases.
'OMG, I'm a Robot'
Goldberg and Zelezniak teamed up with producer Amir Manor to create this independent comedy. While it doesn't have a terribly sophisticated or original plot, its visual effects are surprisingly good for an Israeli production. Yotam Ishay plays lead character Danny, a geek who discoveres one day that he's not just flesh and blood, but also metal and fiber-optics.
The film's cyborg protagonist, created by a nefarious weapons start-up company, discovers that he's nonetheless still human, and still in love with his ex-girlfriend (played by Hili Yalon). He uses his newfound gifts to help save her from her captors. The film also stars Tzahi Grad, Dror Keren, and comedy duo Kovach and Duvdevani.
"We wanted to make an Israeli comedy that was totally nuts. And as if that's not a crazy enough task, we chose to make it as part of the most difficult genre – science fiction comedies," said creators Goldberg and Zelezniak, "Sci-fi has to impress visually, and have breathtaking shots and effects."
"With comedy, you need to make your audience laugh hard, get them in tears. These are two tasks are huge challenges in and of themselves. Luckily for us, we worked on set with the funniest actors in Israel, as well as the most creative crew."
On their way to accomplishing their goal, Goldberg and Zelezniak needed a lot of motivation, as well as good will from cast and crew, but also the skill and resourcefulness to solve production-related challenges. "Everyone believed in this crazy initiative and helped us make this movie that has stunts, ziplines, a karate instructor, and a sweet, hyperactive dog. We walked a long, pioneering road. And now, when we hear the people in the crowd laugh, being awed by the effects and asking themselves if this is really an Israeli film, we feel proud. We did it."
'Jeruzalem'
Brothers Doron and Yoav Paz grew up in the pastoral environment of films made by their father, director Jonathan Paz, but the films the two create are fundamentally different from Paz senior's kibbutz dramas. Following their 2009 thriller "Phobidilia," the two directed episodes of television shows "Asfur" and "Metim Lerega" while simultaneously working on an independent project: An apocalyptic found-footage style horror film, made in Israel.
'Jeruzalem' trailer ( )
After raising an initial sum themselves, the Paz brothers started filming in Jerusalem. They were then joined by Shaked Berenson, head of the Hollywood production company Epic Pictures, and the film was sent on tour to several Israeli festivals (it won the audience choice award at the last Jerusalem Film Festival), as well as some abroad.
The film's plot follows three American tourists (Yon Tumarkin, Yael Grobglas, and Danielle Jadelyn) who come to Jerusalem, only to encounter a frightening sight through their Google glasses: A horde of winged zombies rising up from the pits of hell into the Old City. And all this happens during Yom Kippur, the holiest day on the Jewish calendar.
Jeruzalem's finance and production model required much backstage improvisation due to, among other reasons, lack of interest from film funds, but the Paz brothers decided to go forward with the project anyway. "After Phobidilia, we understood that we're not making movies for ourselves and the Tel Aviv crowd, but for broader audiences, and there's no shame in that."
"There's a wonderful awakening of young creators who chose to leave the safe area of dramas, and challenge themselves and their audience with alternative movies intended for wider audiences: horror films, thrillers, kid's movies, stoner comedies, and even science fiction. It's an amazing, exciting process. The crowds are voting with their cash."
Even so, the two admit that many obstacles still exist for alternative movie makers. "From our experience, there's still a long way to go. Most funding is still given to dramas. In our case we knocked on film fund's doors again and again, and were cruelly kicked out. Even The Jerusalem Film & Television Fund refused us again and again and again. Only when work on the film was done, and it succeeded internationally, did we get some 'falafel money'."
"It can be frustrating, but on the other hand the taste of victory is that much sweeter. Jeruzalem has already been sold to dozens of countries and territories around the world, and is about to become one of the most successful Israeli films of the past few years."
'Abulele'
Like "OMG, Im a Robot?!" and "Jeruzalem," director Jonathan Geva's film, "Abulele," leans quite a bit on CGI – which Geva and his team are working on currently. The film is a fantasy that shows the friendship between a ten year-old boy and a legendary monster named Abulele. The meeting of the two is created via a combination of live action and animation, as was the case with Spike Jonze's 2009 adaptation of "Where the Wild Things Are."
Since the movie appeals to all audiences, especially children, it was supported by the Israeli Film Fund, The Jerusalem Film & Television Fund, Mifal Hapayis, and leading production companies like United King and Dori Media Paran, who are all looking to attract young audiences to movie theaters. The film stars Yoav Sadian Rozenberg, Makram Khoury, Liora Rivlin, and Micha Selectar, as well as Nati Kluger and Rotem Keinan, who starred in Aharon Keshales and Navot Papushado's hit film "Big Bad Wolves."
"I wanted to create a film that was in the same genre with movies I grew up watching – The Goonies, Back to the Future, and ET. Movies, and most of all fantasy movies that are meant for the whole family, are nearly non-existent in Israeli cinema, and that's a shame," said Geva, "I also wanted to make a movie character that was very Israeli – that was ours. That brought me to make Abulele – a monster whose part of many Israelis' childhood – and bring it to the silver screen."
As opposed to the Paz brothers, Geva was supported, as mentioned, by both film funds and private investors. "My first concern as a director, and the producer's first concern, wasn't how to make an alternative movie, but how to make a good and funny movie of the highest quality."
"I got a lot of help from Israeli Film Fund and The Jerusalem Film & Television Fund, who supported the film. These two funds show a lot of good will and readiness toward making different movies and attracting new audiences."
'Freak Out'
The IDF has always been both a source for pride and fear – not just for its enemies but for IDF soldiers as well. Dan Wolman's "Hayal Halayla" (1984) told the story of a mentally disturbed man who dons a military uniform and slaughters women in the dark, while Didi Lubetzky's 2011 zombie comedy "Muralim" and Eitan Gafny's "Cannon Fodder" (2013) showed Israeli soldiers as infected.
Boaz Armoni's "Freak Out" circles back to Walman's slasher vibe 30 years later, but puts a comedic twist on it, with its dorky protagonist finding himself on guard duty inside a secluded base, surrounded by a bunch of out of control fellow soldiers. Between humiliations, a dangerous threat emerges.
"'Freak Out' was filmed in just 12 days, on a tiny budget compared to feature films, even Israeli ones, and in guerilla conditions, but it's still a kind of miracle that it was even made," said Armoni, "It's very hard to make alternative films in Israel. There are many reasons for it, but I think the biggest is that this type of cinema isn't in the Israeli cultural DNA yet, which is mostly based on festival films, family dramas, or comedies."
These facts are evident. "The system itself has a hard time containing the strange bird that goes by the name of Israeli alternative filmmaking. The hope is that, at least at first, more bodies will declare dedicated target dates for alternative movie releases, as they started doing recently with comedies, and will make more movies of that kind as a result, so that more continuity and fluidity will start to build, not just one-at-a-time instances. I think audiences, especially young audiences, are ready.
'The Man in the Wall'
This thriller, directed by Evgeny Ruman, isn't perhaps a classic genre film, and certainly not one that revels in gore like "Freak Out," but it does have notable elements of mystery and thrillers that separate it from the usual set of Israeli dramas.
It doesn't have flashy visual effects, and the whole story occurs inside of a single apartment, where our protagonist (played by Tamar Alkan), whose husband disappeared one night while walking their dog, lives.
During one dark and gloomy night, she'll try and find out what happened to her beloved, while also contending with different, strange, sometimes dangerous characters visiting her home.
"The complicated relationship between a husband and wife is at the center of my movie. Apparently classic material for a relationship drama, but it was important to me that the film works first of all as a thriller – a film with a mystery, a secret, at its center, through which the viewer gets to know the characters and their lives," explains Ruman, "I think that 'psychological thriller' is the most accurate genre in which to place the film, and for me it was a big challenge."
"What I love about alternative movies is that they work on two levels: the higher plot level and the psychological/philosophical level that lurks beneath. The best films, to me, are those in which both work in parallel."
'The Man in the Wall' clip
"In Israel, we don't yet have a tradition of thriller and mystery movies. Like anything different, my film also raises a certain suspicion, I suppose. I feel like one reason that not enough films of this kind are made in Israel is actually the filmmakers, not just the establishment, which usually takes the brunt of the blame."
"Maybe filmmakers feel that if they say their movie is an alternative piece, it won't be promotable as an 'important film,' and that'll lower its chances of getting funding from film funds and being accepted into important festivals. Even if that's true, I don't think that's a reason to forgo alternative elements in the films I make."
"It's a movie convention through which creators can communicate with audiences, and one of the most effective ways to display the ideas that are important to them."
'Antivirus'
With film funds being somewhat limited, sometimes filmmakers have to improvise. That was the case for Alon Newman's "AntiVirus," created in collaboration with the Impro acting studio, which also worked with director Omer Reis on his 2013 film, "Radical."
This kind of partnership helps filmmakers, but also has its own issues. It demands changes to the script, writing in extra acting parts for the studio's students, which could bring about countless plot problems.
In AntiVirus, which was shot on a budget of about $50,000, these students portray Israelis living through a deadly zombie virus outbreak.
The trailer for 'Antivirus'
"The idea behind the movie is new and hard to digest," said Newman. "Overseas, they get it pretty easily, the genre is well known, so viewers are comfortable. If this was an American film, it probably would have had a budget of tens of millions. In Israel we don't have that, because we live in a reality that says there's no point investing in impossible stories."
"The entertainment culture here is underdeveloped, so it's hard to get this kind of fictional tale funded. As an entrepreneur, I decided to go with the idea."
During production, Newman and his crew tried to raise money so they could finish filming, but were rejected by film funds and festivals.
In order to get the required sum, they turned to crowdfunding, and even managed to get sponsorship from a software company. "Of course the industry doesn't accept this kind of movie, they're always looking for flaws, not trying to understand the challenges we faced."
Newman does give thanks to those who assisted the film without being directly connected to the industry – the Israel Police, Magen David Adom, fire departments, and others. "It turns out there are a number of people and groups who do want films like this to be part of the landscape," he said.
Newman said that even now, with all of the obstacles he faced, he still plans on going forward with a new project – also an alternative film.