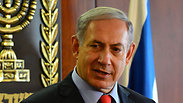 Netanyahu. Fell flat on his face
Photo: Kobi Gideon, GPO
American President Barack Obama is seen smiling in a series of photos published Wednesday. In some of them even more, I would almost say rejoicing, and he likely has a good reason to be joyful. If nothing goes wrong, and there is no apparent reason for that, the agreement with Iran will be approved without the need to impose his veto right.

Prime Minister Benjamin Netanyahu rejoiced this week too, at least in the pictures. In his case, it was after the vote on the natural gas plan. He was seen rejoicing and even clapping his hands. At least one moment, although not a very long one, of comfort. Because when it comes to the American issue, it's hard to know how many obstacles our prime minister will have to overcome, upon the ending of the farce known as "the battle against the nuclear agreement."

Obama's Revolution

Op-ed: Obama chose Roosevelt's foreign policy - 'speak softly and carry a big stick' - unlike Bush, who chose to strike with the big stick, and then wondered why there was no one left to talk to.

It's a bad agreement, professionals agree. They also agree that the battle led by Netanyahu was justified. But this battle, which ended the way it did - with a huge smile on Obama's face - raises a number of troubling questions, on a cautious note. And the question "how did Netanyahu fail" is not one of them.

Even Yesh Atid Chairman Yair Lapid, who has some disputable abilities but whose verbal abilities cannot be questioned, wouldn't have succeeded in recruiting the Western World in general and the Americans in particular. His demand to appoint a commission of inquiry to look into Netanyahu's conduct in this context is completely groundless. It takes a significant amount of megalomania to believe that such a resolved and committed American president could be convinced to change his path. Both of these men may be inflicted with this megalomania - Lapid, who thinks we could have won had the battle been conducted differently, and Netanyahu, who launched the battle.

And that's the troubling thing. A political strategist, as Netanyahu is expected to be, should have realized two things: The first is that a moment after the agreement is signed, the battle is over. What could have been said until that moment can no longer be said. The achievements recorded during the negotiations - and some achievements have been recorded - are the maximum we can reach at this moment.

That doesn't require us to raise a while flag, or to retreat and admit that a mistake has been made. There has been no mistake, but it's time to deploy on the new fortification line.

The second thing, which stems from the first, is that an Israeli victory in Congress, under the circumstances which have been created, would have been rightfully perceived as a putsch. Not just as meddling in another country's affairs. A putsch that no country, definitely not the United States, could have ignored. Israel, proverbially, would have been erased from the American administration's telephone directory, and every Israeli prime minister would have become a persona non grata in Washington, and rightfully so.

So the question we must ask is what exactly was Netanyahu thinking. What exactly was he thinking in a country which is about to go to elections and where, in light of the Republican circus, it's quite possible that the Democrats will remain in the White House for at least four more years?

If policy is the art of the possible and not an ethics exercise, Netanyahu fell flat on his face in this battle. He failed to realize at real time that it's a lost battle, he did not make the required switch, did not change direction, did not use the created circumstances to minimize damages and maximize the chances for considerable compensation.

Going all the way points to a loss of red lines. Every schoolchild knows that in the existential, daily battle over a place in the class hierarchy, some lines must not be crossed, scorched earth must not be left behind, and the bridges forward must definitely not be burned.

Netanyahu's conduct raises a distressing concern that he has lost control, that he has lost the ability to detect the right moment to put aside the out-of-date means of warfare, replace them with updated texts and change position. Adapt himself to a the new reality created. It's not a bad word. It's not opportunism either. It's called a rational policy.