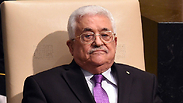 Abbas. Remains silent on condemning his own people when resorting to Islamic extremism
Photo: AFP
In the European Parliament, when the name of Israel is muttered, the next two words that usually follow are settlements and occupation.

The European Union's obsession with Jewish settlement construction in the West Bank has been the main drive behind all the recent initiatives spearheaded by the European External Action Service (EEAS), starting with the EU Guidelines on Israeli entities based outside the Green Line from December 2013 and continuing with the EU labelling of products coming out of the settlements and other similar measures.

Palestinian Leader

Op-ed: What does the man who represents the Palestinian people really want? Does he support peace or terror? The master of winking is producing lies, without letting the facts get in his way.

They are also allegedly the main reason why some of my own colleagues sitting in the parliament are calling for a suspension of the Association Agreement with Israel.

Here in Europe, settlements are seen as the major stumbling block for the restart of peace talks. Admittedly, building new housing in the settlements does have a counterproductive effect when it comes to confidence building measures between the parties, and I for one have pointed out the need to respect international law. However, the complex nature of the settlements, the differentiation between outposts and building housing in an area already agreed to be part of the land swaps are nuances that should be considered if you choose to tackle them as one of the core conflict issues.

The Quartet Principles meeting from Vienna last Friday and Palestinian President Mahmoud Abbas' visit to Brussels on Monday are likely to produce a set of statements about measures that should be taken by both sides to de-escalate the tensions. We don't, however, expect them to tackle head-on a key and core issue of the conflict, that of Palestinian incitement.

The "lone wolf" attacks that we have witnessed in the last few weeks against Israeli citizens have not only instilled a deep mistrust towards Israeli Arabs and East Jerusalem Arab residents, but have set the peace process way back. These attacks are symptomatic of a malaise in Palestinian society that the international partners, and Europe, in particular, have been trying to duck for several decades: Hate speech and incitement to violence.

For sure, this is not as quantifiable or traceable as housing construction in settlements, roadblocks or checkpoints, and yes, it will take a long-term policy oriented approach that the European governments have proven to date they lack an appetite for, particularly in matters of foreign affairs. Nevertheless, hate speech and incitement to terror are at the core of the conflict as much as partition of land is.

The government of Israel has been addressing the Palestinian concerns for the last couple of weeks: Reiterating that they do not seek a change in the status-quo of the Al-Aqsa Mosque and calling for a restart of the peace process in the midst of bus attacks, car ramming killings, stabbings and stone throwing. This is not about perceptual politics, rather showing that as a government, your first duty is to protect the lives and welfare of all your citizens.

Abbas, on the other hand, comes from the opposite school of thought. He keeps being silent on condemning his own people when resorting to Islamic extremism and petitions UNESCO to make the Western Wall as part of the Al-Aqsa compound on Temple Mount. How is this helping to calm things down? Mr. Abbas' rhetoric reminds us of something that we are starting to be familiar with also here in Europe, the rise of divisive populist politics.

As with all politicians, myself included, our rhetoric needs to fall in line with what the population expects and demands of us. Let's make the following mental exercise: Mute for a moment the TV commentators and let's look at the images in front of our eyes. Why do Palestinians always seem to resort to inflammatory language and violence?

The EU should stop tiptoeing around this issue by continuing to make large wire transfers to the PA bank account in the hope that they know best how to deal with extremist elements in their society. We need to be assertive.

We need to support and facilitate activities and projects that foster respect for human values in Palestinian society whilst also ensuring that the rise of a new political class in the West Bank would put an end to the PA's self-destructive playbook.

Extremist elements are gaining more and more ground amongst Israeli Arabs, in West Bank and Gaza. We have all seen the clips released by Islamic State calling to "turn them (Jews) into rotten corpses," while Hamas is planning to carry suicide attacks from its cells in Hebron and Nablus.

Lastly, it is evident that Europe should not allow itself to be drawn into the blame game. However European leaders should call things as they are and stop the ever-present balancing act of politically correctness.

While we are engaged in state-building measures, with funds and expertise, we should condition all the EU funds for the territories on an actual Palestinian renouncement to hate and incitement to violence. Building a Palestinian society who will see cutting people's throats as abhorrent as it is for any western society is not a pro-Israeli position. It falls into the oft forgotten category: The right thing to do.

Our aspiring mediators or policy trend-setters should do just that, make sure cool heads prevail and focus on issues that would actually make a difference, such as Palestinian reconciliation and measures that would strengthen a civil society ready to live in peace side by side.

Until it does that, I fear the PA playbook will continue to prevail.

MEP Lars Adaktusson is vice chair of the European Parliament Delegation for relations with Afghanistan and a member of the Committee on Foreign Affairs. Former Middle East correspondent for Swedish media, he is also one EIPA (Europe Israel Public Affairs) Advisory Board members.