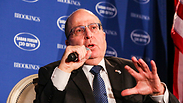 Ya'alon at the Saban Forum. An unnecessary and dangerous slip of the tongue
Photo :Ralph Alswang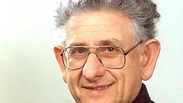 Elyakim Haetzni
Photo: GNET
In his speech at the Saban Forum in Washington, Defense Minister Moshe Ya'alon criticized the Obama administration, saying that by "sitting on the fence," it was forcing Middle Eastern countries to turn to Russia.

"Russia is playing a more significant role than the United States" in the Syrian crisis, he said. "We don't like the fact that King Abdullah of Jordan is going to Moscow, the Egyptians are going to Moscow, the Saudis are going to Moscow. The United States should play a more active role in our region." He added that there was a void which was being filled by Russia, Iran and the Islamic State.

Close Cooperation

Op-ed: Without Soviet aid at the critical moment in the late 1940s, it would have been very difficult for the State of Israel to have been born.

If this quote is accurate, it is irritating - from several aspects: What has Russia ever done to us that it deserves to be placed in the same line as Iran and even ISIS? And isn't it slightly pretentious for little Israel to determine the relative role of two world powers in the Middle East? And what kind of attitude does the defense minister expect from a world power which we "don't like" our neighbors turning to?

Are we confusing today's Russia with the Soviet Union? Don't we have tight commercial, tourism and cultural relations, and recently even military cooperation? Why only recently, Prime Minister Benjamin Netanyahu visited the Kremlin as a friend, their country is open to aliyah and Russia's Jews have a lot of praise for President Vladimir Putin's attitude towards them, an attitude which he openly expresses repeatedly.

It's reasonable to assume that it was no coincidence that Israel was absent from the UN General Assembly session in which Russia was condemned on the Ukrainian issue, and it's not incidental that we are not taking part in the economic sanctions against Russia. The West didn't like it, but it was a brave policy aimed at protecting Israel's interests, as a country which cares for the world's Jews too. And all this is being ruined with one miserable statement?

The US is indeed a true friend of Israel, even during President Barack Obama's term. We feel so close, that we even quarrel like family members, but that still does not give us the right to preach America about the role it should be playing in the Middle East vis-à-vis Russia. Don't we have enough disputed issues with the Obama administration which are crucial to the national interest?

Granted, even a small country like ours is allowed to stand on guard when it comes to its interests, even against a world power. Yet is seems that a line has been crossed here, especially as it is not at all clear that the Russian intervention to preserve Bashar Assad's regime in some parts of Syria is so bad for us. Are al-Qaeda, the al-Nusra Front and ISIS any better? So far, in the efforts to remove Assad's mass destruction weapons, the "responsible adult" which solved the crisis, with Obama's authorization, was Putin.

As we try to understand Ya'alon's comments - perhaps there is something he knows which the Israeli public doesn't know - we are hit with an opposite statement from Tzachi Hanegbi, chairman of the Knesset's Foreign Affairs and Defense Committee, which was issued a day after Ya'alon's remarks. Hanegbi actually doesn't see Russia's entry into the Syrian arena as a negative thing. On the contrary: "It's very important that another world power is determined to strike ISIS."

All that is left to ask is if these two statements were issued on behalf of the same government, not to mention the fact that Hanegbi speaks as the the prime minister's mouthpiece and it's likely to be understood that way.

Is this, therefore, an attempt by Netanyahu to repair the damage? And if it is, is it enough? Or should the defense minister, who is known for his integrity and as a person who does not lack public courage, work to fix an unnecessary and dangerous slip of the tongue?