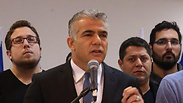 Yair Lapid's press conference against Breaking the Silence. Strongly steering to the right
Photo: Motti Kimchi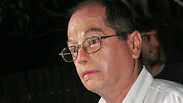 Amnon Abramovich
Photo: Tzvika Tishler
When Yair Lapid was appointed finance minister, he gave up a car and a driver and would drive his private car himself. Even today, as a Knesset member, he drives his subcompact crossover without using one of his parliamentary assistants as a driver.

But since the elections, he has been strongly steering to the right. So strong, that he fails to look out for sharp turns. He may flip over. In other words, he won't buy the right and may lose the center, which granted him 19 Knesset seats in the previous elections.

Slander and Incitement

Op-ed: When the public discourse focuses on 'fascists' versus 'traitors,' the more serious, practical debate - which Israeli democracy needs like the air it breathes - is defeated.

His outlook and worldview haven't changed, but his style, writing and speeches have been quickly converted from Israeliness to Jewishness, from the center-left to the right.

Journalists don't like the center. The center is unattractive, characterless and has no sex appeal. It tries to please everyone, represses troublesome information, paints a colorful image, fails to touch sacred cows and doesn't puncture balloons. But most voters are in the center. In Israel, center means military hawkishness and security activism combined with international countenance and a forced acceptance of a diplomatic compromise.

Many years ago, on the eve of the 1992 elections, which were won by Yitzhak Rabin, the term "black doves" was coined. The black doves are like white doves, but are separated by their rhetoric, arguments and emphasis. While the white ones focus on morality, justice and the neighbors' rights, the black ones talk about the damages of controlling another people which are suffered by our people rather than by the other people, diplomacy and demography.

The recent days have sparked an argument over the Breaking the Silence organization. We are talking about a small body manned by idealist and concerned combat fighters and officers, who decided about a decade ago to try to put an end to the conspiracy of silence surrounding the IDF's activity in the territories. Two basic arguments have been raised against them: One is that they are harming the army, and the other is that they are receiving funds from abroad.

The first argument is based on the assumption that IDF is "the world's most ethical army." Unfortunately, after nearly 49 years of occupation, I doubt the IDF is still an army or rather a police; it is perhaps the world's most ethical policing or occupation army. When the ground forces' main mission is in the territories, it's no wonder that since the first Lebanon War up to Operation Protective Edge it has failed to win the battles.

The foreign funding argument is as hypocrite. Right-wing bodies and the settlement enterprise receive much higher funds from donors around the world. Pay attention to the open, official layer of donations to politicians mentioned in the state comptroller's reports, from Prime Minister Benjamin Netanyahu to Minister Naftali Bennett, and you'll realize who donates to whom and how much.

Had I been asked, I would have advised Breaking the Silence to operate in Israel and not abroad, to adopt local rather than universal claims, arguments which are friendly to the Israeli user, not to the global user.

When I see a demonstration adorned with signs reading "Jews and Arabs refuse to be enemies," it's clear to me that it's a lost cause, as there are quite a few Jews and many, many more Arabs who are not refusing - and even want to - be enemies. Therefore, any presentation of a future agreement through rose-colored glasses is doomed to fail.

The two-state solution is not ideal, but it's the only solution in town. Whoever thought, or thinks he can convince others that a Palestinian state will be any different from Syria or Iraq, from Egypt or Lebanon, is ignoring reality. It may definitely become another cruel, corrupt dictatorship with fanatic religious characteristics. Prime ministers with a real affinity to the national security components - like Yitzhak Rabin, Ehud Barak and Ariel Sharon - understood that very well.

After being elected prime minister, way before he disengaged from Gaza, Sharon visited IDF forces in the Strip. He met with a combat engineering reserve battalion and heard from them that they were guarding settlers rather than training.

An officer holding the rank of major told him that he, his wife and their small children were planning to travel to Canada a few months later to explore a future there. "Mr. Prime Minister," the officer said, "I am 35 years old, self-employed. In the past decade I have been doing almost 60 days of reserve duty in Gaza a year. It destroys my business, it destroys me and my family."

Sharon returned from that visit depressed. "That guy," he said, "that officer, wasn't some guy with gel in his hair." He reached the right conclusion, even if he did implement it the wrong way and in a gradual manner.

Prime Minister Netanyahu and Defense Minister Moshe Ya'alon, who keep wearing out the IDF in the territories, don't like Breaking the Silence, but are themselves breaking guard.

Amnon Abramovich is a Channel 2 News commentator.