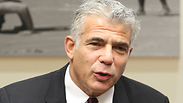 Lapid hasn't changed his political views by one iota
Photo: Gil Yohanan
In the past few weeks it has become the bon ton, and it's only increasing: The Israeli Left, and all its writers, have found the nation's new enemy. His name is Yair Lapid.

"Since the elections," Amnon Abramovich, who is very far from the radical left, wrote this week, "he has been strongly steering to the right." As long as the criticism came from the moonstruck camp, so be it. But Abramovich? In his case, we are likely talking about a random blunder.

Soldiers' Testimonies

Op-ed: The Israeli public should be grateful for soldiers who insist on their Jewish right to maintain ethical standards during or after their military service.

The thing is that this approach proves, like a thousand witnesses, that even parts of the moderate, Zionist, sane Left are being dragged into the radical left's rhetoric. They are finding it difficult to deal with voices which deviate from the chorus line.

An electoral paradox has been taking place in Israel for years. On the one hand, there is a clear majority for those who support a compromise; on the other hand, the Right is winning. There is an explanation: According to different polls, about one-third of Likud voters are leaning towards the diplomatic compromise like the one adopted by the Zionist Left. But the Zionist Left has managed, with remarkable talent, to make people loathe it.

One should listen to what Zionist Union leaders Isaac Herzog and Tzipi Livni have been saying in recent days. They are so kind as to utter a weak word of condemnation against Breaking the Silence, but immediately jump up to defend freedom of expression. As if that's the point.

Why when it comes to a racist organization like Lehava, they will issue blatant condemnations, and rightfully so, without going on about freedom of expression. But when it comes to an organization cooperating with the BDS movement, which seeks to destroy Israel, they stand up to support freedom of expression. They fail to realize that by doing so, they are associating themselves with the radical left. Just like that, they are scaring off the one-third which returns to the Likud.

Lapid has decided that he's had enough. He won't recite Herzog and Livni's clichés. When someone spits on him, on us, he won't call it rain just because "journalists don't like the center," as Abramovich wrote. So what if they don't like it? Is that what's important? Only spineless people recite what the commissars in the media demand that they say.

Lapid hasn't changed his political views by one iota. He is in favor of any peace initiative which has been rejected by the Palestinians in the past few decades. And a person who speaks in favor of the Saudi initiative isn't fawning over anyone.

But, alas, he dared to say what Herzog and Livni are afraid to say: That Breaking the Silence are spewing poison against Israel in the world. And yes, it's time to initiate a legislative move which will prevent funding from elements that are oiling the BDS campaign. What exactly is wrong or inappropriate here?

Following the recent elections, almost everyone in the Zionist Left, including politicians and journalists, declared on every stage that "there is a need for self-examination." There were endless declarations, but no self-examination. But when one of the camp's members really starts conducting a self-examination, they attack him.

In fact, Abramovich's demand of Lapid is unequivocal: Please, go back to the mantras which have failed to lead us anywhere. And don't forget that journalists don't like your centralization. Whoever thinks there is no thought police in Israel should start counting the number of comments against Lapid in the media. It's astonishing.

Abramovich is right about one thing: The political center in Israel is in deed a difficult place. Many have failed in it, but it's still the most important place. It's the place where the thinking people are. It's the only place which deviates from the moldy dogmas. It's the only place where people understand that both the Right and the Left make valid arguments.

It's unclear whether Lapid will succeed where others have failed, but it is clear that his courage to voice views which deviate from the dictations of the journalists' guild should be welcomed.