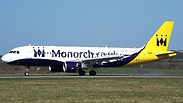 Monarch. Expanding activity in Israel
Photo: Monarch.co.uk
British airline Monarch, which recently resumed its activity in Israel after a 10-year absence, is planning to introduce a new route between Tel Aviv and Manchester in April 2016.

Ticket prices are expected to begin at 108£ (about $160) for a one-way flight.

Open Skies

German low-cost airline TUIfly, which is owned by the world's largest travel and tourism corporation, will offer two weekly flights to Israel from March 2016 at a starting price of €218 for a round-trip ticket.

Monarch will offer three weekly flights on Tuesdays, Thursdays and Saturdays on its Airbus A320 planes, which include 174 seats. On Tuesdays, the flight will leave from Ben-Gurion Airport's Terminal 3 at 6:25 pm and arrive in Manchester around 10:10 pm, on Thursday it will leave at 7:40 pm (arriving at 11:25 pm), and on Saturdays at 11:10 pm (arriving at 2:55 am).

In early December, the British low-cost company began operating three weekly flights on the Tel Aviv-London (Luton) route (on Sundays, Mondays and Thursdays) and another flight to Eilat (Ovda Airport) on Thursdays.

Upon the arrival of the first Monarch plane in Israel, CEO Andrew Swaffield promised that the new flights were part of the company's expansion plane. After announcing the new Manchester-Tel Aviv route, he added that based on the success of the London-Tel Aviv route, Israeli passengers would now be able to enjoy direct flights to Manchester as well, good quality of service and competitive prices.

Monarch, which is considered one of the cheapest airlines in Europe in the competition over the Israeli passenger, is mainly competing against easyJet, which offers low-cost flights to the same destinations. According to easyJet ads, the company offers flights to Manchester at a starting price of €166 ($181) to England and €156 ($170) to Israel.

Monarch, which was founded in 1967, has five bases in England: London Luton, London Gatwick, Manchester, Birmingham and Leeds Bradford. It flies to about 40 destinations with a fleet of 35 planes. Monarch's travel and tourism company also offers vacation packages and hotels in 70 destinations, focusing on cities, beaches and ski resorts.