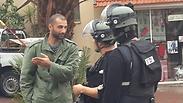 Police forces in Ar'ara, last week
Photo: Hassan Shaalan
A letter to a friend in Ar'ara
Op-ed: There will be other Nashat Melhems. After all, dozens in the Arab sector have expressed solidarity with ISIS and thousands support terror. While they are far from being the majority, both you and I know that it doesn't take more than a few to turn our lives into a nightmare.
Hello, S. These are not easy days, neither for you nor for me. On Friday evening, after a member of your village was killed, I thought I heard a sigh of relief in your voice. It's possible, you said, that this affair is behind us.

I think your hope may be somewhat exaggerated. There will be other Nashat Melhems. After all, dozens have expressed solidarity with the Islamic State. Thousands in your sector support terror. They are not the majority. Far from that. Their percentage among the entire population is very small. But both you and I know that it doesn't take more than a few to turn our lives into a nightmare.

Tel Aviv Shooting

Op-ed: When the prime minister says there is a 'state within a state' of lawbreakers in Israel's Arab communities, he is intensifying Jews' fear of us and dismissing every ingredient of our life in Israel.

The majority of Sunnis among the billion and a half Muslims in the world don't support ISIS. But ISIS leads the way. It turns large parts of the Arab world into ruins. The majority is defeated. So there is no need for illusions.

Allow me to say something you won't like to hear: Had your people not been under Israeli rule, there is a chance they would have murdered each other ceaselessly. What will happen once the West Bank gains independence, sovereignty and free elections? Will the Tunisia model be implemented there, or will it be the Syria, Iraq, Somalia, Yemen and Libya model? You know the answer.

As for the fact that Hamas is linked to ISIS in Sinai through many tunnels, the answer becomes much clearer. There is no need to go very far. Take a look at your neighbor, Raed Salah. What would he do to you if it weren't for Israel? He and his likes are trying to violently impose their Sharia rule. Others would oppose them. Instead of a death toll of 13 in the September 2000 events, you would be grieving tens of thousands of casualties today.

In the past week, as you know, I defended you again and again. I believe that most Israeli Arabs, while they may not be Zionists, were and remain loyal citizens. I don't think Nashat Melhem represents you. He represents a small and marginal minority.

And allow me to add that I am angry at that right-wing journalist who scolded me and others for insistently arguing that Israel's Arabs support coexistence. He presented an impressive list of events in which Israeli Arabs were involved in hostile activity. But that's a deception. Because one can present a long list not only of right-wing people who were involved in violence, but a longer list, from Rabbi Yitzhak Ginsburgh to Daniella Weiss, who support radicalization and the Hilltop Youth, and - directly or indirectly - back violence against Arabs. And we can add the thousands of protestors against the investigation of their master and teacher, Rabbi Dov Lior, who supported the writer of the "King's Torah" lampoon.

But that doesn't mean there is no problem. Of course there is. In our society, people lash out at radicalization leaders like Ginsburgh. In your society, Salah is supported not only by thousands and tens of thousands, but also by the leadership. Why? Why is something which is condemned on the Jewish side - and rightfully so, because it is dark, anti-democratic and dangerous - turned into a flag waved upward on the Arab side? Is there any other democratic state which allows such phenomena to take place within it?

So I can argue repeatedly that most Arabs don't support terror, that the murderer is an unusual phenomenon, but the not so little support for Salah - who is in many senses a Hamas representative within Israel - raises concerns.

Your claims about an years-long deprivation are correct. The decision to invest billions is a step in the right direction. But responsibility does not just go one way. In Britain, Sweden, France and Germany there are also similar gaps between the veteran majority and members of the second and third generation of Muslim immigrants. And there are no such gaps when it comes to members of other groups, like Hindus for example.

Is it possible that the oppression of the woman and the nurture of hatred towards Jews, Christians and homosexuals are part of the problem? Perhaps you should stop claiming that everyone else is to blame, while only you eternally exempted?

There is a need for reconciliation, my dear friend. There is a need to do more, much more, for equality. But it's also time to stop the self-deception, and it's time for some self-responsibility.