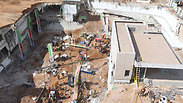 Site of the building collapse
Photo: Motti Kimchi
First arrest made in building collapse investigation
While search and rescue forces are still working to locate three missing people, police have made the first arrest in the investigation of the subterranean parking structure collapse; a gag order has been placed on the identity of the arrested individual as well as the entire investigation.
Police made the first arrest Tuesday evening in the case surrounding the collapse of the underground parking lot in Tel Aviv which left 3 dead, dozens injured and five missing. The arrest comes just a day-and-a-half after the collapse as rescue forces continue in their efforts to locate three people that are still missing.
A gag order has been imposed on the details of the investigation, including the identity of the arrested individual.
Fottage of the collapse (צילום: חברת "בזמן אמת")
Another body was pulled from the rubble Tuesday afternoon after rescue teams continued their search throughout the night. However, three people remain trapped—two residents of Acre and a Palestinian from the Dawabsheh family.
Rescue forces still believe it is possible to reach the trapped people. Lt. Sami Yehezkel, one of the commanders of rescue teams at the scene, said, "We are working with all the forces of the Homefront Command to reach those trapped. We are working at a number of locations we identified at the start through intelligence. This leads us to the most relevant places first."
"We are working with heavy equipment and all the means of the Homefront Command. We have the best methods in the world based on our unfortunately extensive experience in Israel and abroad," he continued. "Until proven otherwise, we are treating all of those trapped as still alive. We are operating at peak energy and professionalism and are ready to work 24/7 to find those still trapped."
Social workers and psychologists gathered Tuesday morning with the relatives of those still trapped to offer support and counseling. Jewish and Palestinian families both sat on benches in waiting rooms anxiously awaiting news on the statuses of their loved ones.
Yana Mashalov, the wife of Oleg Mashalov, who is still missing, said "My husband always said it was dangerous there. Two days ago, an elevator fell."