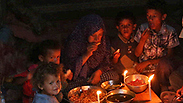 Gaza family during power outage. The accusing finger is always pointed at Israel
Photo: Reuters
Israel is right. Cutting the power supply to Gaza is the result of internal Palestinian score-settling. And in any event, it's kind of difficult to require Israel to fund electricity and concrete for Gaza, when these materials are used for building tunnels and rocket-manufacturing facilities, rather than for welfare and prosperity. The next death, in Sderot or Ashdod or Tel Aviv, could be because of the electricity supplied to Hamas' death industry. Should Israel facilitate jihad?

Being right is not enough, however, because the accusing finger—as always—is pointed at Israel. Israel can and should and must, therefore, use this impending crisis to repeat the proposal that has already been raised by the European Union and the international community: An end to the siege, and investments and prosperity in exchange for demilitarization—regardless of the fact that this offer has already been rejected. It must be repeated, as an Israeli initiative, and it must be done dramatically and with a lot of noise.

If that doesn't happen, there will be another round of violence, like Operations Protective Edge and Cast Lead. We already know the result. It's the exact same result. Israel will be paralyzed for several weeks, the economic damage will be enormous, Hamas will once again enlist the anti-Israel propaganda machine, which is always eager to take to the streets and whet its keyboards, and Israel will suffer more than Hamas. So what for?

So instead of announcing a power supply cut, Israel must make Hamas a dramatic offer. The proposal should be raised in a press conference and at the United Nations, and published as whole-page ads in international newspapers. It will cost Israel much less than the damage that will be caused by the rockets on Ashdod, Ashkelon and perhaps even Tel Aviv. We have nothing to lose. If they say yes, it will be our gain. If they say no, they will lose a lot of points in the global public opinion, where they are expected to win.

My concern is that Israel will choose the predictable route, in which it is right— very right—but is also acting very foolishly, leading to defeat.
In the service of BDS
I am writing this column from Boston, in the midst of meetings and lectures. Prime Minister Benjamin Netanyahu's words about the continuation of construction, and more construction, anywhere in the territories, echo in the background. It's the same Netanyahu who invested more than NIS 100 million in the war on anti-Israel propaganda. What good will all these millions of shekels do, when Netanyahu himself is issuing statements that destroy the chance for a peace agreement? How exactly can the Israeli policy on peace be explained, when Netanyahu is encouraging the construction of one big state?

It's possible that these are just words. It's possible that their purpose is to appease the settler leaders, who want more and more settlement construction. After all, they are complaining about a construction freeze. But in this era, words are part of the story, an important part. And the Israeli prime minister's words about expanding construction in the settlements, even beyond the settlement blocs, is worth millions to the anti-Israel propaganda.

The other meaning is that BDS activists and members of the radical right share the same vision. The former are advocating one big state, and the latter are executing it. Pro-Israel Jews, who I am meeting with these days, are finding it difficult sometimes to defend Israel, and not just because of the BDS. They are finding it difficult because of the Israeli government as well. The prime minister, who is supposed to be a hasbara wizard, is sometimes, just sometimes, working in the service of BDS.

So I have a proposal for Netanyahu: You could save tens of millions of shekels from the state budget, allotted for hasbara purposes, by cutting down on the words that even tens of millions of shekels can't explain—unless the coalition interest is more important than the national interest.