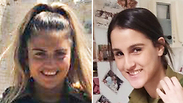 Hadas Malka (L) and Hadar Cohen
Netanya kindergartens to be named after fallen border policewomen
Parents of Hadar Cohen and Hadas Malka, who were murdered in similar terror attacks at Damascus Gate in 2016 and 2017 respectively, to be invited to inaugurate 2 kindergartens named after their fallen daughters: City mayor: 'These warriors symbolize the heroism, values of love which we teach our children.'
Two kindergartens currently under construction in the city of Netanya are set to be named after the two Border Policewomen, Hadar Cohen and Hadas Malka, who were murdered in similar circumstances in separate terror attacks while trying to fight against the perpetrators in Jerusalem's Old City.
Netanya Mayor Miriam Feirberg-Ikar explained her decided to name the kindergartens in the Agamim neighborhood of the coastal city after the two women.
"These warriors symbolize the heroism, determination—and more than anything else—the values of love of the people and the land which we teach our children," said Feirberg
Hadar Cohen was just 19 when she fell in the line of duty after three terrorists committed a combined stabbing and shooting attack in February 2016 at Jerusalem's Damascus gate, wounding two female Border Police officers and a young man.
Cohen, who sustained her injuries while struggling with one of the terrorists, was critically wounded and later succumbed to her wounds while hospitalized in Hadassah Medical Center.
Last Friday, a similar attack at the same location involving three terrorists who went on the rampage with guns and knives claimed the life of 23-year-old MSG. Hadas Malka, who was attempting to draw her weapon to neutralize the terrorist, and left five others wounded. All three terrorists were shot and killed by security forces at the scene.
The family of the two fallen soldiers will be invited in three months to officially inaugurate the kindergartens in an area that is currently being completed in the Dolev River Reserve, in the Agamim neighborhood of Netanya
On Tuesday President Reuven Rivlin paid a visit to the family of Hadas Malka, during which he hugged her parents, David and Geula, and offered his words of condolence. "When we saluted our young heroine, our wonderful girl, the entire Jewish people saluted you," he told her father.
"It is important to guard Jerusalem, and it is no simple matter to stand guard. We have been guarding it for 3,000 years and we will continue to do so," he continued. "Hadas and her friends are the ones who make all people in Jerusalem feel safe when they lead normal lives."
Responding to the president, David told him that during high school, his daughter was a basketball player who played in a team at the Peres Center for Peace with Palestinian friends and that "she loved it. She knew she had to be guarded and to guard and be grateful for the fact that we are here."
Prime Minister Benjamin Netanyahu also visited the family as they mourned their daughter, who was buried two days later.