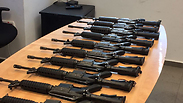 The stolen rifles
Photo: Israel Police
Five Israelis, two of them brothers, were indicted Thursday for stealing and selling weapons from the Sde Teman IDF base.

The defendants are brothers Avishai and Lior Itach of Be'er Sheva, Alaa Masri of Kfar Qara, and Saied Masarwa and Hikmat Malham from the village of Arara.

According to the indictment, the two main defendants in the case, the Itach brothers, broke into the armory at the Sde Teman base in May by cutting the locks on the doors and stole 33 M-16 rifles.

Lior Itach was familiar with the base after having been employed in renovation work there, during which he also had access to the armory building.

Prior to the break-in and the theft of the weapons, the brothers met with two others, Guy Leibowitz and A. A.—who later became a state witness against the defendants—and offered to sell them rifles, which they agreed to.

All in all, the Itach brothers were paid over NIS 500,000 for the rifles.

With information from the state witness, police managed to track and seize 14 out of the 33 rifles. Thousands of bullets, magazines, and additional military equipment such as vests and laser markers were also found along with the rifles.




In addition, police found a large amount of drugs, such as ecstasy and hashish, with a street value of about NIS 200,000 and seized NIS 1 million and several vehicles.

The police suspect the rest of the weapons were sold to criminal organizations in the north, some of them in the Wadi Ara area, Kafr Qara and Umm al-Fahm.

The defendants were charged with conspiracy to commit a crime, burglary and theft, theft under special circumstances, receipt of assets obtained in crime and various weapon offenses (possession, transportation and arms trafficking).

Avishai Itach was also charged with illegal drugs trade and conspiring to import drugs into Israel.