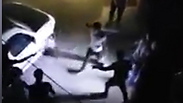 Overnight clashes in Jenin
IDF troops came under attack at the Jenin refugee camp overnight Tuesday, with Palestinian terrorists throwing dozens of explosives at them.

The troops from the Special Forces unit Maglan returned fire, killing two of the terrorists and wounding a third. One of them, Saad Salah, 20, was killed instantly, while a second, Awss Salameh, 17, was seriously wounded and later succumbed at the hospital. A third has been hit in the leg.

Overnight clashes in Jenin

The IDF said none of the soldiers were hurt.

Israeli security forces—including IDF, Shin Bet, Border Police, and police forces—arrested 21 wanted Palestinian suspects in the West Bank overnight. Eighteen of them are suspected of being involved in terror activity against civilians and security forces.

The overnight assault in Jenin comes at the heels of a terror attack on Monday in Gush Etzion, when a Palestinian terrorist rammed his car into a pillbox post near the settlement of Tekoa, where Artillery Corps soldiers were stationed, lightly wounding one of them. The terrorist then left his car brandishing a knife and tried to stab the soldiers. He was shot and killed.