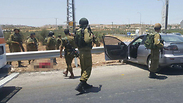 The site of the attack
Photo: TPS
IDF soldier moderately injured during vehicular, stabbing attack; attacker shot and killed
Attacker crashes vehicle during attack in West Bank, before exiting vehicle and attempting a stabbing; soldier now lightly injured apparently hurt from pole that fell due during incident; attacker has been shot and killed.
An attacker attempted to carry out a vehicular and stabbing attack on Monday at the T intersection, located in the Gush Etzion West bank cluster, between the settlements of Tekoa and Ma'ale Amos. The attacker reportedly crashed his vehicle, before exiting it and pulling out a knife in a stabbing attempt. He was shot and killed by Israeli security forces.
One IDF soldier was moderately injured during the incident, when a pole hit by the vehicle fell and hit him. MDA administered emergency care and rushed him to Shaare Zedek Medical Center in Jerusalem. He was later reported to be lightly injured.
The attacker is believed to have been acting alone and independently.
Initial reports stated that the attacker drove his vehicle into an Infantry soldiers' station, causing a pole to fall and hit one of the soldiers, who is currently being treated for injuries in his lower extremities.