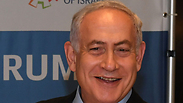 PM Netanyahu
Photo: Kobi Gideon/GPO
Two new polls conducted just a day after Avi Gabbay was elected to head the Labor Party indicate that Prime Minister Benjamin Netanyahu would still be Israel's preferred choice to lead the country if elections were held tomorrow.

According to a poll which was published by Channel 2 news Tuesday, Gabbay would receive 20 mandates and Netanyahu's Likud 24.

The results indicate a drop in support for the Zionist Union (the Labor and Hatnua bloc) which in the last elections received 24 mandates and managed to gather more support according to polls conducted since.

The poll also indicates that Yair Lapid's Yesh Atid party would follow closely behind Gabbay with 18 mandates and Naftali Bennett's Bayit Yehudi party would receive 13 mandates, tying with the Joint List. Moshe Kahlon's Kulanu party would only receive 8 while the United Torah Judaism (UTJ) party would trail closely behind with 7.


Yisrael Beytenu, headed by Defense Minister Avigdor Lieberman, would limp through with just 6 mandates while the poll puts Meretz and Shas at mandates 5 each.

But while the findings are inconclusive, Netanyahu's seemingly invulnerable positions seems to be buttressed by a separate poll conducted by Channel 10, according to which Likud led the way with 29 mandates. In the Channel 10 poll, Gabbay also performed better, managing to match his predecessor Isaac Herzog's achievement with 24 mandates.

Lapid fared slightly worse in the second poll with 16 mandates while Bennett's fortunes were marginally up with 14 mandates.

Similarly, the Joint List and Yisrael Beytenu performed slightly better than in the poll conducted by Channel 2 with 8 and 7 mandates respectively. Kahlon's also registered a slight decline in popularity in the second poll falling to 6 mandates. UTJ also took a turn for the worse with 6 mandates while Shas and Meretz received the same number of mandates in both polls.

In the second poll, in which 724 people took part, participants were also asked who they believed would be the most appropriate candidate to be the prime minister. Going head to head, Netanyahu came off as a clear favorite, taking 51% of the vote compared to Gabbay's meager 25%.

When all the party leaders were taken together, Netanyahu's support base had been noticeably chipped away, but he nevertheless managed to maintain his lead with 37%. Gabbay, by contrast, received 14%, Lapid 12%, Bennett 8%, and Lieberman 7%.

The same question asked to participants of the Channel 2 poll found Netanyahu racing ahead once again with 34%, Gabbay 13% and Lapid 12%.