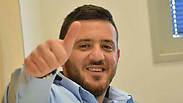 Police officer Kamil Shnaan, who was killed in Friday's attack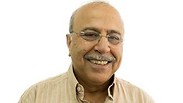 It's time to save our state
Op-ed: The three brainwashed Muslim fanatics from Umm al-Fahm, who carried out the Temple Mount attack, are not Israelis. An Israeli is someone like former MK Shachiv Shnaan, who taught his son that Israel is his state, the state he sacrificed his life for while defending the Temple Mount.
It's time to use accurate terms. Terrorism is terrorism is terrorism. It's equally important to clarify who and what is an "Israeli."

So who is an Israeli? Not the three terrorists from Umm al-Fahm. They are brainwashed Muslim fanatics, and so is anyone who agrees or identifies with them.

An Israeli is former Knesset Member Shachiv Shnaan, whose beloved son was killed while defending the Temple Mount, the most explosive site in the Middle East. A man who thought about security and coexistence of fanatics from both sides, who are fighting over a temple that doesn't exist and a holy mosque. A man who taught his son that Israel is his state, the state he sacrificed his life for in the Jerusalem attack.

Unfortunately, the term "Israeli" is losing its civilian strength. It becomes Jewish when it is fed by Jewish messianic perceptions, and it becomes Muslim when it is driven crazy by Islamic fanaticism. And so each of us has shut ourselves off in our own shell and abandoned our common ground. What we meticulously created, with a lot of sensitivity and tenderness, has been eaten up by a terrifying fanatic madness.

And now it's the leadership's time—and my question is: Where is it? The Arab leaders are stuttering and trying to please everyone with double meanings, allowing the majority to lead, deafened by the noise of the street. The Jewish leaders are inflaming the situation as if a destructive battle would earn them more supporters.

No, gentlemen! It's time for a brave, sane, quiet leadership, which will reflect the pain of the masses and lead them forward to peace. It's time to calm everyone down and try to save the state. And I'm not exaggerating when I write that "it's time to save the state."

I'm no pessimist, but I see the processes and they begin with the Nationality Bill, with the nationalistic narrative that has taken over us on the one hand, and the spirit of the Islamic State and fanaticism on the other hand.

We are all Israelis, and if we wish to live and achieve peace, we must rise and cry out in the name of sanity, because this is the moment of truth and it's a very troubling moment.

One of the most heart-rending images over the weekend was the picture of my relative, police officer Roken Halabi, mourning the death of his friend, Kamil Shnaan, who was murdered in the attack. And I say to him, Roken, be proud, lift your head up high, because you're defending your home. Don't be discouraged. I know how brave you are. Your tears are mixed with the blood of your friend Kamil, and they symbolize your massive power and strength.

And to the leaders I say, don't let the masses dictate the discourse on social media. It's time to stand up and express remorse for the sin of arrogance and refine the discourse—even if after 70 years, the State of Israel has yet to internalize the laws of citizenship in a democratic state. I feel betrayed in my own country, but I will always defend it and fight in it for a sane, egalitarian and just society, for my sake and for the sake of all citizens of the state, regardless of religion, race and gender.

Rafik Halabi is mayor of the Druze town of Daliyat al-Karmel.