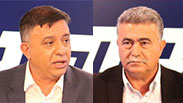 Gabbay and Peretz
Photo: Avi Moalem
Newly elected Labor Chairman Avi Gabbay held his first meeting with MK Amir Peretz since defeating him in the second round of the leadership contest last week, during which the two discussed future strategies for dissolving the government headed by Prime Minister Benjamin Netanyahu.

After the meeting with Gabbay, Peretz said that "the meeting was held in a good spirits," and that he and Gabbay had already begun formulating a plan to "accelerate the dissolution of the government and the replacement of Benjamin Netanyahu."

For his part, Peretz pledged to "do everything to make these processes as quick as possible. The country needs change. I will contribute to the best of my ability so this change takes place and I hope that very soon we will feel that these processes create greater backing for the Labor Party and its elected chairman, Avi Gabbay."

Peretz then noted that "the true test of a person who believes in democracy is first of all his ability to stand behind a chairman elected in a democratic party," reaffirming that he will stand behind Gabbay and aid him in his mission which his predecessor Isaac Herzog was unable to accomplish.

"Today the other parties understand that internal democracy has the power to influence the entire Israeli public, and that is how we will act," he concluded.