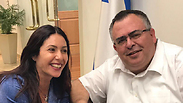 Minister Miri Regev and Coalition Chairman David Bitan. An unrestrained attack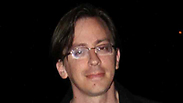 Nadav Eyal
Photo: Ido Erez
In Netanyahu's government, it's okay to incite against Shin Bet
Op-ed: Politicians like David Bitan and Miri Regev don't care about the need to hold a practical and rational debate on security issues. They just want to make a quick profit among the radical right, while trying to terrorize the professional security echelon.
There's a famous verse from the Book of Isaiah: "Your destroyers and those who laid you waste go out from you." It's usually seen as a gloomy prophecy: The people of Israel will be harmed by their own flesh and blood. The truth is, however, that this verse is actually a consolation prophecy. The prophet promises his people: The destroyers and those who laid you waste will leave, will go away.

We should think about this verse at this time, as we approach Tisha B'Av, especially in light of a growing, truly stunning phenomenon: A wild attack by Knesset members and ministers on the IDF and the Shin Bet.

The Shin Bet was asked in the past week for its professional opinion on the metal detectors affair. Apparently, so was the Military Intelligence Directorate. The evaluation was pretty gloomy, and in retrospect—accurate. Even before the cabinet's decision to keep the metal detectors in place, the unrestrained attack was already underway.

Coalition Chairman David Bitan threatened that "if it's true" that the Shin Bet recommended removing the metal detectors, he "would see it very seriously." There's no point in joking about Bitan's zero experience with security affairs, because the serious thing here is actually his attempt to terrorize the General Security Service. On Twitter, people followed in Bitan's footsteps and accused the Shin Bet of "covering its ass." A former MK, who used to be linked to Meir Kahane, wrote that the Shin Bet is a rotten body. There were a lot of supportive reactions.

It's a bit strange to be disgusted by an organization which is constantly working to prevent terrorists from blowing up buses. And why? Because the Shin Bet offered its professional opinion to the government, which it is obliged to do by law. But wait, because within a day and a half it turned out that the Shin Bet had been right and that there is a major flare-up, not just in Jerusalem but also in the territories, and then came the horrible terror attack in Halamish. As soon as that happened, all those who said that nothing would happen and that the Shin Bet was "covering its ass" jumped up and said that everything that happened would have happened in any event. Interesting logic.

That was just the introduction. Because then Culture Minister Miri Regev visited Halamish and said that the Shin Bet's claims were "delusional." In a different government, in different times, the prime minister (who is in charge of the Shin Bet), would have already summoned her for a serious talk. Here it ended quietly, because in Bibi's government one can freely incite against the Shin Bet. It's a fact. Netanyahu's deputy at the Foreign Ministry, Tzipi Hotovely, said in 2014 that Shin Bet Director Yoram Cohen was taking part in a blood libel against Jews. Why? Because Cohen presented to the Knesset's Foreign Affairs and Defense Committee his organization's estimate that if MKs visited the Temple Mount it could spark a conflagration in the West Bank. Pay attention to the term she used: "Blood libel."

Criticizing the Shin Bet is necessary, and it should be done in light of the organization's secret activity. The political echelon has the final word, even in cases in which the defense establishment presents an opposite opinion. That's the meaning of democracy. Another meaning is that tiny politicians like Bitan, Regev and Hotovely shouldn't try to terrorize the professional security echelon.

Why are they doing it? Because they can get away with it. Where do they earn points for it? Among small, radical publics. If there's a consensus in the Israeli public, it's around the defense establishment. But these politicians don't care about the need to hold a practical and rational debate on security issues. They want to make a quick profit among the radical right. These are the first people who will scream "fifth column" when referring to civil society organizations, but they are singlehandedly undermining one of the State of Israel's big advantages—a professional and skilled defense establishment.

Isaiah doesn't just predict, he also demands that the destroyers be removed. A price must be paid for radicalism and incitement. The Arab MK, who spreads lies that "Al-Aqsa is in danger" must pay, and the same applies to the Likud MK who incites and tries to terrorize the Shin Bet (while inflaming the situation of course). Where do they have to pay? In the polls. It's in our hands. Otherwise, we'll remain captives in the hands of the radicals these MKs keep flattering. And the prophet's consolation prophecy will turn into a destruction prophecy: Your destroyers and those who laid you waste go out from you.