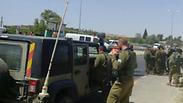 Scene of attempted attack
Photo: TPS
A stabbing attack was thwarted in Gush Etzion on Friday afternoon when a terrorist wielding a knife charged at IDF soldiers stationed at a junction in the area before being shot and neutralized.

No injuries were inflicted on Israelis civilians or IDF soldiers from the Kfir Brigade deployed in the area, but the terrorist was left in critical condition before being pronounced dead shortly thereafter at the scene.

The attempted attack comes one week after a 17-year-old terrorists, Omer al-Abed from the village of Kobar, infiltrated the settlement of Halamish and stabbed to death three family members and wounded a fourth as they celebrated Shabbat.

The latest attempt comes against a background of protests, which are expected to spill over into violent outbreaks, and have already seen minor skirmishes between security forces and Palestinian rioters in the Wadi al-Joz neighborhood of Jerusalem near the Lions' Gate.

Rocks were also thrown at security forces in the West Bank near Qalqilya, in Bethlehem and Nablus by hundreds of Palestinians. Two Palestinians were lightly wounded as forces opened fire with rubber bullets.