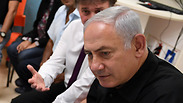 Prime Minister Benjamin Netanyahu paid a visit to the Yavne terror victim, who is currently recovering in hospital, Tuesday describing him as a "hero" who through his actions prevented a more serious disaster.

Niv Nehemiah, who was repeatedly stabbed last week by a terrorist in a supermarket in Yavneh, was hospitalized in Kaplan Medical Center in Rehovot in life-threatening condition.

"Niv is a hero. He simply fought with his bare hands against a terrorist consumed with hatred," Netanyahu said during his visit. "He stopped and prevented a massive disaster."




According to the hospital, Nehamia, a 43-year-old father of five, recently returned to consciousness and is no longer facing life-threatening danger.

"We all prayed that he gets through this, and according to what we are seeing, our prayers have been answered and he will indeed get through this," Netanyahu added after meeting with Nehamia.

"I saw him with his family and it is simply heartwarming. I applaud him in the name of all the people of Israel. One thing is for sure … The real answer lies in our courage and our willingness to fight against these murderers and those who dispatch them. That willingness and courage has been shown here today by Niv in a magnificent way."

Netanyahu also comment on an Apache helicopter crash Monday at the Ramon Airbase during which Maj. (res.) David (Dudi) Zohar was killed and his co-pilot seriously injured.

"I want to take this opportunity to send my condolences to the family of the pilot Maj. (res.) David (Dudi) Zohar. We know the scale of the pain, we also wish the navigator who is fighting for his life a speedy recovery," he said.