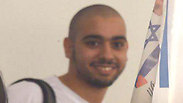 Elor Azaria
Photo: Yair Sagi
Azaria greeted by supporters as he begins prison sentence
Dozens show up outside prison in a display of solidarity with Elor Azaria, who is set to begin serving his 18-month prison sentence for shooting dead a neutralized terrorist in 2016; 'Do not fear Elor, Israel is with you,' say supporters; defense attorney laments 'sad day for Israel and the IDF.'
Dozens of supporters assembled outside a prison Wednesday morning in which the former IDF soldier Elor Azaria is set to begin his prison sentence for shooting dead a neutralized terrorist in Hebron in March 2016.

Azaria, who arrived at Prison Four in Tzrifin on Wednesday morning to the cheers of the supporters, was sentenced to 18 months earlier this year and despite a number of appeals, the military courts upheld the conviction.

Elor Azaria arrives at prison (צילום: חדשות 10, יוגב אטיאס ודניאל אליאור)

"I love Elor," "Elor is a hero," chanted the demonstrators in their display of solidarity, which at times was not devoid of threatening language. "If you don't return the boy, we will overturn the state." Upon arrival at the prison, Azaria's father, Charlie, thanked the crowds for their support.

Speaking outside the prison, Azaria's defense attorney, Yoram Sheftel described the outcome of the prolonged legal proceedings, which lasted just under a year-and-a-half, as "a sad day for the State of Israel and the IDF."

"A man has never entered prison in the State of Israel when 90 percent of the population laments it," said Sheftel.

Among the supporters who made his way to Azaria's home to accompany his family as they escorted him to prison was Israeli singer Ariel Zilber. "Shame on our country," Zilber vented. "I came to tell Elor not to be disheartened, not to be scared and to raise his head."

On Tuesday, the Military Court of Appeals rejected Azaria's latest request to postpone his prison sentence.

Last week, the Military Court of Appeals decided to uphold his manslaughter conviction and on Sunday, Azaria filed a request to the court, which was ultimately rejected, to postpone the beginning of his prison sentence until IDF Chief of Staff Gadi Eisenkot decides whether or not to commute his sentence.

Amir Alon, Itay Blumenthal and Shahar Chai contributed to this report.