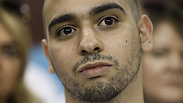 Azaria asks IDF chief to substitute sentence for mandatory community service
Apparently heeding the advice of Defense Minister Lieberman not to file another appeal to the court against his prison sentence, and hoping that Gadi Eisenkot would make good on a pledge to 'seriously consider' a personal plea to lighten the sentence, Azaria sends letter stating had he known there was no bomb on the terrorist, 'I would not have shot.'
Elor Azaria, who is to begin serving an 18-month prison sentence for shooting dead a neutralized Palestinian terrorists last year, sent a letter to IDF Chief of Staff Gadi Eisenkot Thursday asking that he substitute his sentence for community service, while informing him that he would not be filing an appeal to the Supreme Court.

"I wish to clarify that if I had known in advance what became apparent in hindsight—that there was no explosive device on the body of the terrorist—I would not have shot," Azaria wrote in the letter.

"Furthermore, I would also like to clarify that I do not intend to file an appeal to the Supreme Court… I ask (you) to accede to my request and to convert the prison sentence imposed on me to a sentence of community service. It is my desire to return to normal life and rehabilitate my life and those of my family in order to repair the fragments," the letter continued.

According to Azaria's defense teams, the decision not to file an appeal to the Supreme Court was taken after deliberations by the Azaria family, and particularly in light of Elor's desire to avoid any further distress or suffering on his family. "Elor hopes that the chief of staff will accede to his request," his defense team said.
"Go to combat, volunteer"
Elor Azaria broke his silence Thursday evening, issuing a video statement in which he said, "I believe I could have been acquitted and I want everything to go back to normal as fast as possible. I hope the Chief of Staff will respond in the affirmative."

Azaria also thanked supporters, saying, "You all financially aided by defense. It wasn't expected and I thank and love the people of Israel."

Azaria ended his statement with an appeal to the country's youth, saying, "We only have one country. I don't want to think that motivation has been harmed because of my case. Go to combat, volunteer."

Azaria is set to enter his cell in one week after the Military Court of Appeals upheld his manslaughter conviction on Sunday.

Shortly after the decision, Minister of Defense Avigdor Lieberman took to Twitter, urging the Azaria family not to file an additional appeal. "I ask the Azaria family not to file an additional appeal, but rather to appeal to the Chief of Staff for a pardon. I have no doubt that the chief of staff will take into account all the difficult circumstances and that he (Elor) was an outstanding soldier," Lieberman wrote.

In addition, Eisenkot announced the same evening that any appeal filed to him by Azaria to lighten his 18-month prison sentence would be "seriously considered."