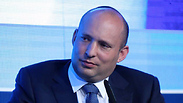 Bennett
Photo: Motti Kimchi
Bennett urges US gov't to 'unequivocally condemn' anti-Semitism seen at Virginia march
Edu. min. tweets photo of the Nazi party flags flown in deadly white nationalist march, writing that US administration must come out against such acts; despite clear condemnations from other Republican leaders, US Pres. Trump has been criticized for refusing to refer to Nazis or white nationalists by name, presumably since many of his supporters identify with said groups.
Education Minister and Bayit Yehudi Leader Naftali Bennett urged the US administration to issue a clear admonishment of the anti-Semitic instigators involved in Saturday's white nationalist march.
"Nazi flags in the US," tweeted Bennett on Monday, following the deadly white nationalist march. "US administration must unequivocally condemn this."
The vehicular attack in Virginia
The incident Bennett was referring to turned deadly, after a car plowed into a crowd of several hundred people peacefully protesting a white nationalist rally Saturday in a Virginia college town, killing one person and sending at least 26 others to hospitals. The driver was arrested.
Matt Korbon, a 22-year-old University of Virginia student, said counter-protesters were marching when "suddenly there was just this tire screeching sound." A silver sedan smashed into another car, then backed up, plowing through "a sea of people."
The vehicular attack happened about two hours after violent clashes broke out between white nationalists, who descended on the town to rally against the city's plans to remove a statue of the Confederal Gen. Robert E. Lee, and others who arrived to protest the racism.
US President Donald Trump's condemnation of the attack did not mention white nationalists or Nazis as the instigators, or even as participants, saying instead that he is against the "egregious display of hatred, bigotry and violence on many sides," while contending that the hateful sentiments that gave rise to it had taken root in the country long before his political ascendancy.
Trump (רויטרס)
Trump's refusal to condemn Nazis and white nationalists outright was seen by many as his catering to his fanbase, many of whom are racists and/or anti-Semitic.
Among in attendance in the white nationalist rally were Confederate heritage groups, KKK members, militia groups and "alt-right" activists, who generally espouse a mix of racism, white nationalism and populism.
Trump's impartial condemnation was not how the Charlottesville mayor assessed the chaos that led the governor to declare a state of emergency, contending that Trump's campaign fed the flames of prejudice.
Trump, on a working vacation at his New Jersey golf club, had intended to speak briefly at a ceremony marking the signing of bipartisan legislation to aid veterans, but he quickly found that those plans were overtaken by the escalating violence in the Virginia college town. One person died and at least 26 others were sent to the hospital after a car plowed into a group of peaceful anti-racist counterprotesters amid days of race-fueled marches and violent clashes.
Officials later linked the deaths of two people aboard a crashed helicopter to the protests, though they did not say how they were linked.
Speaking slowly from a podium set up in the golf clubhouse, Trump said that he had just spoken to Gov. Terry McAuliffe, D-Va. "We agreed that the hate and the division must stop, and must stop right now. We have to come together as Americans with love for our nation and ... true affection for each other," he said.
"We condemn in the strongest possible terms this egregious display of hatred, bigotry and violence on many sides, on many sides," said Trump. "It's been going on for a long time in our country. Not Donald Trump. Not Barack Obama. It's been going on for a long, long time."
The president said that "what is vital now is a swift restoration of law and order and the protection of innocent lives."
After completing his statement and the bill signing, Trump then walked out of the room. He ignored reporters' shouted questions, including whether he wanted the support of white nationals who have said they backed him or if the car crash in Virginia were deemed intentional, would it be declared to be terrorism.
The previous two days, Trump took more than 50 questions from a small group of reporters. A White House spokeswoman did not immediately respond to a request for an explanation as to what Trump mean by "many sides."
Following Trump's comment, several Republicans pushed for a more explicit denunciation of white supremacists.
Colorado Sen. Cory Gardner tweeted "Mr. President - we must call evil by its name. These were white supremacists and this was domestic terrorism."
Florida Sen. Marco Rubio wrote "Nothing patriotic about #Nazis,the #KKK or #WhiteSupremacists It's the direct opposite of what #America seeks to be."
Even New Jersey Gov. Chris Christie, a staunch Trump supporter, wrote: "We reject the racism and violence of white nationalists like the ones acting out in Charlottesville. Everyone in leadership must speak out."
Right-wing blogger Jason Kessler had called for what he termed a "pro-white" rally to protest the city of Charlottesville's decision to remove the confederate statue from a downtown park.
Kessler said this week that the rally is partly about the removal of Confederate symbols but also about free speech and "advocating for white people."
"This is about an anti-white climate within the Western world and the need for white people to have advocacy like other groups do," he said in an interview.
Alt-right leader Richard Spencer and former Ku Klux Klan member David Duke attended the demonstrations. Duke told reporters that the white nationalists were working to "fulfill the promises of Donald Trump."
Trump's speech also drew praise from the neo-Nazi website Daily Stormer, which wrote: "Trump comments were good. He didn't attack us. He just said the nation should come together. Nothing specific against us. ... No condemnation at all."
The website had been promoting the Charlottesville demonstration as part of its "Summer of Hate" edition.