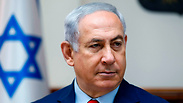 Their cup of tea vs. ours
Op-ed: Despite Prime Minister Netanyahu's insistence that he and his family are being presecuted by the 'left-wing media' over an errant cup of tea or his wife Sara's caring for her dying father, it is really about the Netanyahus' utter lack of shame, whose consequences will apparently be decided by the court.
It seems to me that the Prime Minister Benjamin Netanyahu's detractors overly-criticized him following his speech in last week's support rally, organized by his emissaries. Netanyahu's text was familiar; He has been playing it for two decades. His convinced remained convinced, and his critics had no choice but to shout.
However, in contrast to the past, this time Netanyahu's remarks about the "left-wing media" kept journalists and other public opinion leaders awake at night, worryng that his statements could lead to the assassination of a journalist who has been critical of him. They found a link between the incitement in the days before the assassination of then-prime minister Yitzhak Rabin and the current Netanyahu-led incitement against the media. I, howefver, suggest we all relax. It is possible to believe that our democracy is not in danger and no that journalist is marked as a target for assassination.
Even in the hostile atmosphere that currently exists, it is our job as journalists to continue to do our job without fear and without bias. I have no doubt that Netanyahu's close associates at times enjoy walking on the edge—for example, when one of them decides to start collecting on journalists for a rainy day—but our response must be one: We are not afraid.
I also would like to address another issue that arose from Netanyahu's speech. With a firmness that we know only from his speeches about the Holocaust and the Iranian threat, Netanyahu protested the "persecution" of the media for his wife Sara. "They will not tell the public that she supports sick families, Holocaust survivors, cancer-sick children and lone soldiers," he cried out. "Instead, they prefer to deal with truly important matters, such as the proper procedure for replacing a light bulb, food deliveries (referring to an NIS 11,000 bill Sara Netanyahu submitted for food deliveries—ed), and the cup of tea given to her father—that 97-year-old righteous man who was on his deathbed. What a disgrace."
This is not, however, about a cup of tea, but about seemingly proven suspicions that the Netanyahu family included the salary of the Nepali worker hired to take care of Mrs. Netanyahu's father among the expenses of the Prime Minister's Residence. Tens of thousands of shekels, which were supposed to be paid by the Netanyahu couple, were paid from the state treasury. In other words, what is acceptable to all of us in terms of ensuring the well-being of our parents or those closest to us at the end of their lives does not apply to the Netanyahu couple. For them, we have to pay for the care of Sara's father.
And so, it is not about their cup of tea, but about all of ours. Many of us, even those who do not vote for the Likud, are familiar with the painful and burdensome reality of accompanying sick or elderly family members, helping them and providing them with optimal care. How many families in Israel cannot afford to pay for the employment of a foreign worker for an elderly or sick parent at the end of their lives?
Fortunately for Prime Minister and Mrs. Netanyahu, the law in Israel does not permit the publication of the disputes discussed in family court. As such, one can only hint that if the public were to be exposed to the court discussions between Sara Netanyahu and her brother Hagai Ben Artzi, it would add new meaning to the concept of shame. The odor that wafts up from the conduct of the Netanyahus with their own family members was, at the very least, supposed to obligate them to behave more modestly. So it is not all about a cup of tea, food deliveries, or the persecution of the Netanyahu family, but about their behavior, whose repercussions will, as it stands today, be decided by the court.