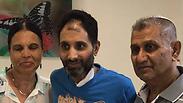 Niv Nehamia
Photo: Kaplan Medical Center
Niv Nehamia, who was seriously wounded earlier this month in a stabbing attack at a Shufersal supermarket in Yavne—where he works as a deputy manager, was discharged Sunday from Kaplan Medical Center after a significant improvement in his condition.

"I feel a little better," said Nehamia upon his release. "I know that I'm going to have a difficult recovery, but we'll get through it. I thank the Creator who gave me these days and saved me from this situation, and also the doctors who labored (to help me recover—ed)."

Nehamia, 43, a father of five, was stabbed on August 2 by 19-year-old Ismail Ibrahim Ismail Abu Aram.

Nehamia fought the terrorist, dropped merchandise from the shelves on him and then collapsed. He was rushed to the hospital in a critical condition with stabbing wounds on his neck, head and chest.

Stabbing attack caught on security cameras

"I remember quite a few things from that day, and I also saw the video that slightly refreshed my memory," Nehamia said. "I was excited when important people came to visit me, but I was even more moved when people I did not even know came.

"(It seemed that) my case drew a semblance of unity among the people, gave them some resilience. If that's in fact what it managed to do, then I'm glad (for my part in it)."

Dr. Guy Lin, the director of Kaplan's emergency room who treated Nehamia, said that he arrived with very serious and life-threatening injuries.

"Niv underwent a series of complex operations, and he is a hero. He has a long rehabilitation process for his injuries and at the end of the process he will make a full recovery."

Passersby subdue attacker, paramedics rush to stabilize Nehemia (Credit: MDA) (צילום: תיעוד מבצעי מד''א)

It was reported Sunday that the police and Shin Bet have completed the investigation into the stabbing attack, and on Monday an indictment will be filed for an attempted murder against Abu Aram.

During his interrogation, Abu Aram proclaimed that he sought to stab Jews in order to carry out the commandment of Jihad.