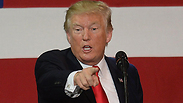 US President Donald Trump
Photo: AFP
US President Donald Trump branded North Korea on Sunday as a "rogue nation" that "only understands one thing" in his first reaction after Pyongyang conducted its sixth and most powerful nuclear test.

"South Korea is finding, as I have told them, that their talk of appeasement with North Korea will not work," Trump wrote on Twitter.

He went on to say the embattled and isolated nation's "words and actions continue to be very hostile and dangerous to the United States."

Russia struck a more cautious tone. "In the emerging conditions it is absolutely essential to keep cool, refrain from any actions that could lead to a further escalation of tensions," Russia's foreign ministry said, adding that North Korea risked "serious consequences."

Moscow said talks were the only way to resolve the crisis. Later on Sunday, Russian President Vladimir Putin was set to meet his Chinese counterpart Xi Jinping in China.

China urged North Korea to stop "wrong" actions and said it would fully enforce UN resolutions on the country.

Britain's foreign minister Boris Johnson called the nuclear test "reckless" and a "provocation."

"They seem to be moving closer towards a hydrogen bomb which, if fitted to a successful missile, would unquestionably present a new order of threat," he told Sky news, adding that there were no palatable military solutions.

French President Emmanuel Macron urged the United Nations Security Council to act. "The international community must treat this new provocation with the utmost firmness, in order to bring North Korea to come back unconditionally to the path of dialogue and to proceed to the complete, verifiable and irreversible dismantling of its nuclear and ballistic programme," he said in a statement.

The International Atomic Energy Agency, which has no access to North Korea, called the nuclear test, Pyongyang's sixth since 2006, "an extremely regrettable act" that was "in complete disregard of the repeated demands of the international community."

North Korea claimed Sunday it has successfully conducted test of hydrogen bomb meant for intercontinental ballistic missile, hours after Japan and South Korea detected an artificial earthquake at 12:29 pm local time, originating in Kilju, northern Hamgyong province, near the North's test site.

The earthquake was measured by the US Geological Survey (USGS) at magnitude 6.3, with meteorological officials saying it was around 10 times more powerful than previous detonations.

The move is a direct challenge to Trump, who hours earlier had talked by phone with Japanese Prime Minister Shinzo Abe about the "escalating" nuclear crisis in the region.

The US State Department had no immediate reaction. South Korea's presidential office said it will hold a National Security Council meeting chaired by President Moon Jae-in. South Korea's military said it has strengthened its monitoring and readiness while mulling a variety of possible responses that could be executed in collaboration with the US.

Japan immediately raised the prospect of further sanctions against the isolated North, with Chief Cabinet Secretary Yoshihide Suga saying that curbs on its oil trade would be on the table.