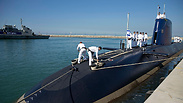 Israeli Navy's INS Rahav
Photo: AP
Former minister questioned in submarine affair
Along with former minister Eliezer Sandberg, former deputy national security advisor Avriel Bar-Yosef and Steinitz's political adviser Rami Tayeb are also questioned Monday, a day after six suspects were arrested in the case, including a former Shayetet 13 commander and the PM's former chief of staff David Sharan.
Former minister Eliezer (Moodi) Sandberg, former deputy national security advisor Brig. Gen. (ret) Avriel Bar-Yosef, and political adviser Rami Tayeb were questioned by the Israel Police's Lahav 433 unit on Monday morning as part of the submarine affair, also known as Case 3000.
Sandberg, whose remand was extended buy three days, previously served as Minister of Science and Minister of National Infrastructures for the Shinui party, and is currently Chairman of Keren Hayesod—the official fundraising organization for Israel the world over (apart from the US).
Tayeb, a political advisor to Energy Minister Yuval Steinitz, is suspected of bribery, conspiring to commit a crime and money laundering. The Rishon Lezion Magistrate's Court extended his remand by three days.
Tayeb is a close friend of David Sharan, Prime Minister Benjamin Netanyahu's former chief of staff, who was detained on Sunday morning along with five others—all arrested as a result of information provided to the police by state witness Miki Ganor.
Sharan is suspected of taking bribes, fraud, and breach of trust, as well as conspiring to commit a crime. Police is looking to flip Sharan into a state witness. The Rishon LeZion Magistrates' Court extended his arrest Sunday evening by five days after investigators marked him as one of the suspects who possessed critical information on the affair.
Bar-Yosef, who was slated to take on his role as National Security Adviser and Director of the National Security Council after being appointed by Prime Minister Benjamin Netanyahu in February, was arrested for alleged offenses of bribery, money laundering, fraud, and breach of trust.
Bar-Yosef allegedly used his position to advance the business of a German tycoon in return for bribes transferred to him or members of his family by way of personal favors and money, without proper disclosure of their relationship by Bar-Yosef.
Two months ago, he was questioned by police as part of the submarine affair and later put on house arrest.
The Magistrate's Court in Rishon Lezion extended Sandberg remand by three days.
A former commander in the elite Shayetet 13 naval commando unit was also among the six arrested on Sunday. His lawyer, appointed by the court from the Public Defender's Office, claimed his client had no connection to the alleged corruption being investigated, and that he was arrested because he sought start a business with Ganor.
The lawyer added the former commander eventually decided against starting a business with Ganor, as he felt Ganor was not being honest with him. Ganor, the lawyer said, compensated the naval officer for damages incurred by his dealings with him as part of an agreement mediated by attorney David Shimron, a main suspect in the submarine affair.
Police seized computers and phones from the naval commander's home and his remand was extended by four days, while the judge delayed by 24 hours the release of his name.
Strategic advisors arrested
Another one of the suspects arrested was strategic advisor Nati Mor to whom police attribute offenses of bribery and the transfer of money to a public servant. His arrest was also extended by four days.
Tzachi Lieber, Mor's business partner, is suspected of mediation in bribery, conspiring to commit a crime, and obstruction of justice. Police seized an external hard drive, an iPad, invoices, documents and Lieber's cellphone as part of the investigation. His remand was extended by five days.
Also arrested is an attorney suspected of mediation in bribery, falsifying corporate documents, conspiring to commit a crime and money laundry. His name was also under gag order.
Channel 2 reported on Sunday that another suspect in the case was former deputy national security advisor, Atalya Rosenbaum, who was questioned 10 days ago on suspicion of mediation in bribery and released under restrictive conditions. She is now suspected of leaking information to Ganor from the National Security Council's discussions.
State witness Miki Ganor provided his investigators with detailed testimony as to the criminal offenses he had committed both in the submarine affair and other deals in which he acted as a go-between for the security establishment, giving rise to the wave of arrests on Sunday.
While the precise contents of his testimony could not originally be fully divulged to the public due to a gag order, a top police official said last month Ganor also provided investigators with tapes and text messages. "He's giving us excellent materials," the police admitted.
By Sunday afternoon, Ynet had obtained information on evidence provided by Ganor, which reportedly pointed to the fact that the mechanisms of bribery were well greased and intended to be hidden.
Ganor allegedly told police that in a bid to win the submarine, patrol ships and ammonia factory tenders, he signed fictitious agreements with strategic advisors Nati Mor and Tzachi Lieber worth hundreds of thousands of shekels that eventually flowed, as bribes, into Sharan's pockets.
Ganor's testimony has raised suspicion that he sought to ensure his appointment using the connection he made with Sharan.
Ganor—who served as representative for the German ThyssenKrupp company that builds submarines for the Israeli Navy—said in his testimony adv. David Shimron, the prime minister's personal attorney, was set to receive commission estimated to total $10 million (NIS 35 million) in order to push through the decision to purchase the submarines.