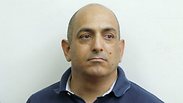 David Sharan
Photo: Amit Sha'al
PM's former chief of staff identified as suspect in submarine scandal
Former top official in Netanyahu's bureau suspected of involvement in submarine probe named as David Sharan, who police are seeking to turn into a state witness against his former boss; 'He could be Ari Harow 2,' say investigators; other suspects detained include IDF officials, such as fmr. navy commander Eliezer Marom, while their homes and offices were raided for possible evidence.
Prime Minister Benjamin Netanyahu's former chief of staff David Sharan was identified Sunday evening as one of the suspects police are seeking to flip into a state witness in the submarine affair, also referred to as Case 3000.

Sharan was one of the six people who were detained Sunday morning for questioning over suspicions of bribery in the affair, as part of the ongoing investigation into the purchase of submarines from Germany for the Israeli Navy.

The Rishon LeZion Magistrates' Court extended his arrest Sunday evening by five days after investigators marked him as one of the suspects who possessed critical information on the affair.

Also detained for questioning were several former top IDF officers, among them former Navy commander Maj.-Gen. (res.) Eliezer Marom and a former commander in the elite Shayetet 13 naval commando unit, with the latter's remand extended until Wednesday. A gag order was placed in the publication of his name.


A police spokesperson said the persons detained are suspected of financial and ethical offenses.

"The six were detained this morning and their homes and offices were searched in order to apprehend documents relevant to the investigation," a police statement said.

Another one of the suspects arrested was strategic advisor Nati Mor to whom police attribute offenses of bribery and the transfer of money to a public servant. His arrest was also extended.

State witness Miki Ganor provided his investigators with detailed testimony as to the criminal offenses he had committed both in the submarine affair and other deals in which he acted as a go-between for the security establishment, giving rise to the wave of arrests on Sunday.

While the precise contents of his testimony could not originally be fully divulged to the public due to a gag order, a top police official said last month Ganor also provided investigators with tapes and text messages. "He's giving us excellent materials," the police admitted.

By Sunday afternoon, Ynet had obtained information on evidence provided by Ganor, which pointed to the fact that the mechanisms of bribery were well greased and intended to be hidden and implicated the arrested suspects.

Ganor allegedly said that in a bid to win the submarine tender, he signed fictitious agreements with strategic advisors worth hundreds of thousands of shekels which eventually flowed, as bribes, into the pockets of a former senior official in Netanyahu's bureau, which turned out to be Sharan.

Ganor's testimony has raised suspicion in the police that he sought to ensure his appointment using the connection he made with that former PMO official.

The police believe Sharan was a key player in the affair and possesses crucial and substantial pieces of evidence.

Meanwhile, it was reported Sunday evening that police were considering offering state witness status in return for his cooperation to a former official in Netanyahu's bureau who was one of the six who were arrested.

"He knows a lot about what took place during the period in which he worked," police officials said.

Police also intend to request extending the Sharan's arrest due to Ganor's testimony and, placing such value on the information he possesses, have said "he could be an Ari Harow 2."

Ganor—who served as representative for the German ThyssenKrupp company that builds submarines for the Israeli Navy—said in his testimony adv. David Shimron, the prime minister's personal attorney, was set to receive commission estimated to total $10 million (NIS 35 million) in order to push through the decision to purchase the submarines.

"The claims made here are so far removed from reality that it's inconceivable the state witness made them to the police," said attorneys Jacob Weinroth and Amit Hadad on behalf of Shimron. "In any event, in the entire period Shimron represented Ganor he acted as an attorney and all of his actions were aboveboard."