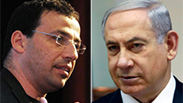 Drucker (L) and Netanyahu
Photo: Yaron Brenner / Reuters
Nothing comes for free
Op-ed: Now that PM Netanyahu has been ordered to reveal details of his many conversations with Israel Hayom's owner and editor, those who refused to acknowledge these communications will finally have to admit to the inappropriate nature of Netanyahu's relationship with Israel Hayom, as well as stressing the importance of safeguarding the press as an independent entity.
Raviv Drucker is a credible, courageous and diligent investigative journalist. His exposés on Channel 10 reveal major problems in Israeli society, without letting those in power off easy. On Sunday, he managed to score another achievement, after the court accepted Drucker's petition, forcing Prime Minister Benjamin Netanyahu to reveal the dates of the phone calls between him and free, daily newspaper owner Sheldon Edelson, as well as with the paper's editor-in-chief Amos Regev. I hope this achievement will not result in throwing the baby out with the bathwater.
To understand the meaning of this triumph, you need to know a little more about how the media works. Prime ministers rarely communicate with newspaper owners. They speak more frequently with news editors, usually to protest something they had published or to try to prevent something from being published. They provide information to the media, as this is an essential part of their job as prime ministers, but they do it through reporters, commentators and columnists. These are the rules of the game in most democracies.
The prevalence and timing of Netanyahu's phone calls to Edelson and Regev show a different set of rules—namely, that Netanyahu was the real editor-in-chief of Israel Hayom.
Founded by a right-wing mogul and handed out for free, Israel Hayom is not really a newspaper or a business: it is a gift to the man whom the Las Vegas casino magnate delightes to honor. Everyone in the media and political system understood this. The paper's readership, or at least part of it, did not care.
Until the elections came. The paper was mobilized with all of its propaganda power to elect one Benjamin Netanyahu. It looked like an election gift—a gift that exceeded what the law permits during elections season. A petition was submitted to the Central Elections Committee, which sought to ban Israel Hayom's free distribution. Shlomo Filber, who at the time was heading Netanyahu's campaign headquarters and later was his director general at the Ministry of Communications, signed an affidavit denying any connection between Netanyahu and Israel Hayom.
But that was a lie. Politicians, journalists, safekeepers of democracy, they knew it was a lie but preferred to close their eyes. Drucker, however, forced them to look. In doing so, he did an important public service: at some point, the State Comptroller will review Filber's false affidavit. If he decides the the Netanyahu-Israel Hayom connection did constitute an illicit gift, the Likud will have to reimburse this gift, and the Israeli public will learn once more that nothing comes for free.
The danger lies in future events. The demand to disclose diary entries of important meetings and phone calls is not going to stop with Netanyahu and Adelson. Coalition Chairman David Bitan is already pushing to reveal the communications of other publishers and editors with former prime ministers Ariel Sharon and Ehud Olmert. He believes this is somehow helping Netanyahu. The next step might have someone asking why stop with publishers and editors, and not include reporters, commentators and investigative journalists?
Here's why: if a reporter cannot guarantee the confidentiality of their sources, the media will not be able to continue to fulfill its role. It's that simple: there is no democracy without a media that's alive and kicking. And there cannot be a media without the guarantee of sources' confidentiality.