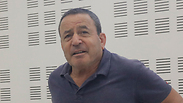 Shai Brosh in court
Photo: Shaul Golan
Brig. Gen. (res.) Shai Brosh, the former commander of the elite naval commando unit Shayetet 13, is one of the six suspects who were arrested earlier this week in connection with the submarine affair, it was cleared for publication on Tuesday.

Brosh is suspected of receiving bribes and of breach of trust.

Brosh's lawyer, appointed by the court from the Public Defender's Office, claimed Monday his client had no connection to the alleged corruption being investigated, and that he was arrested because he sought start a business with Ganor.

The lawyer added Brosh eventually decided against starting a business with Ganor, as he felt Ganor was not being honest with him. Ganor, the lawyer said, compensated Brosh for damages incurred by his dealings with him as part of an agreement mediated by attorney David Shimron, a main suspect in the submarine affair.

Police seized computers and phones from Brosh's home and his remand was extended until Wednesday.
Netanyahu's former advisor testifies in case
Political advisor Shalom Shlomo arrived at the police's Lahav 433 Investigations Unit to give his testimony in connection with the case.
Shlomo served as Prime Minister Benjamin Netanyahu's advisor from 2006-2009 and currently works for Education Minister Naftali Bennett.
He was asked to provide his testimony in light of information provided to the police by state witness Miki Ganor. He is currently not considered a suspect in the case.
Steinitz might give testimony
Police are also expected to summon Energy Minister Yuval Steinitz (Likud) to provide his testimony after three of his close associates were arrested in connection with the case.

Sources close to Steinitz said he was shocked by the allegations against his close associates, adding he heard about them for the first time from the media.

"His integrity has never been called into question, and it is well known," one source said. "If he is summoned to give testimony, he will do as required."

The sources noted Steinitz had no connection to the corruption allegations. "He was a member of cabinet when the decision to purchase the submarines was made, but he wasn't the finance minister at the time. It's true that he supported the acquisition. His position was known, and he wrote articles about the importance of increasing the Navy's strength."

Among the suspects arrested this week was also Rami Tayeb, a political advisor to Steinitz. Tayeb is suspected of mediating bribes between a businessman and a sitting public official.

Tayeb, who has been working with Steinitz for many years and is considered a well-known figure in the Likud party, is also suspected of receiving bribes, money laundering and obstruction of justice. His remand was extended by three days on Monday.

"Rami is the one who helped Steinitz make connections within the party, organized meetings with activists for him," a Likud official said.

On Monday, strategic advisor Eli Kamir was also summoned to give testimony in the case.

Gilad Morag contributed to this story.