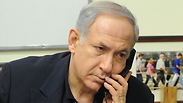 Phone logs indicate PM had direct hand in election headlines
Records of conversation dates and times between Netanyahu and Israel Hayom former chief editor Amos Regev and financial backer Sheldon Adelson suggest pre-election headlines, attacking political rivals and Barack Obama, were influenced by PM.
Recently published phone logs detailing times and dates of conversations that took place between Prime Minister Benjamin Netanyahu and Israel Hayom newspaper owner Sheldon Adelson and its former editor-in-chief Amos Regev between 2012 - 2015 reveal a possible direct correlation to the favorable headlines Netanyahu received in the paper as the country headed to the polls in two general elections.

An analysis of the dates of conversations as they correspond to the nature of the headlines, particularly those leading up to the 2013 and 2015 elections, indicate that Netanyahu may have had a direct hand in their formulation.

At a time when the records show that Regev held almost daily conversations with the prime minister as the country was heading to the ballot box, the headlines dominating the paper's main stories were of a particularly pro-Netanyahu slant.

On January 3 2015 for example, one headline sought to score Netanyahu points against his political rival Naftali Bennett, reading: 'Likud attacks: Bayit Yehudi is against women.'

Three days later, a main headline read: 'The (US—ed) president will do everything to for a left-wing government.' On January 16, the headlines became more aggressive against the former US president Barack Obama, saying: 'Likud officials attack: "Obama is trying to interfere in the elections"' while a day later, a main headline read: 'PM answers Obama: Israeli citizens will decide.'

On February 1, following a Saturday during which Netanyahu and Regev spoke five times, the newspaper's cover story dealt with Mrs. Netanyahu's driver submitting a deposition corroborating her version in a scandal in which she was involved. Another main headline read: "The NGOs affair, part 2—claims of left-wing organizations interfering in Israeli elections.'

According to Sunday's reports on Channel 10, during the period before the 2013 general elections, Netanyahu spoke with Regev 15 times in the space of 19 days. Between 2012 - 2015, he spoke with the casino mogul Adelson 120 times.

The records were released following a petition submitted to the courts by Channel 10 journalist Raviv Drucker around three years ago, who cited the a freedom of information law pertaining to the Prime Minister's Office.

Drucker filed the request for access to the phone records on suspicion that content and headlines of the pro-Netanyahu daily, funded by Adelson, were being decided upon by Netanyahu himself.

Such direct involvement would be in contravention of the state's Knesset Elections Law (Propaganda Methods), since the prime minister may have enjoyed the services of a publication that has reached an estimated cost of NIS 1 billion since it was first created.

In a response issued by Adelson and Regev, they claimed that the phone calls with the prime minister were merely conversations between friends.

"Mr. Regev and Mr. Netanyahu are old friends," the statement read. "Their acquaintance began 28 years ago (of course, independent of the acquaintance and friendship between Mr. Adelson and Mr. Netanyahu). In this case too, it is an acquaintance between their families. Mr. Regev and Mr. Netanyahu share many common interests including, among other things, history, the military, Judaism, literature and archaeology."

In an attempt to show that Netanyahu has nothing to hide in these conversations, the Prime Minister's Office (PMO), released a statement insisting that he and the distribution's current editor-in-chief Boaz Bismuth have what has been described as a "fully trusting relationship."

In 2013, Netanyahu planned to appoint Bismuth, who at the time was a commentator for Israel Hayom, to the position of "project manager on the removal of infiltrators." According to the job description, which Netanyahu wanted to hand over to Bismuth without a tender, he was supposed to "mediate behind the curtain, with a low profile, between Israel and other countries" where illegal migrants could be absorbed.

The details of his new contract which were published in 'Globes' said that Bismuth was supposed to resign from his position to fill his new role and receive a monthly salary of NIS 30,000, while receiving flights and funded trips abroad.

Moreover, Bismuth was to receive a bonus of hundreds of thousands of shekels for successful efforts in bringing about the deportation of the illegal migrants, sums which are considered unacceptable for employees in the public sector.

At the time the PMO explained that several candidates were considered for the position who were recommended by the Foreign Ministry, but that Netanyahu marked Bismuth for the role.

"The procedure does not require a tender," said Hillel Frieman, who served as an assistant to the then-director-general of the PMO Eyal Gabay.

"After a preliminary examination, the prime minister asked that contact be established with Bismuth, the former Israeli ambassador to Mauritania, who holds a master's degree in African studies and international relations, and is a speaker of English and French," Frieman said.

"Bismuth showed himself ready to carry out the task and therefore left his position." As it transpired, the agreement was not signed by Bismuth, who today heads Israel Hayom.

Itamar Eichner, Telem Yahav, Yuval Karni and Amihai Attali contributed to this article.