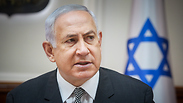 PM Netanyahu
Photo: Marc Israel Sellem
PM spoke with Adelson over 100 times between 2012 - 2015
Freshly released PM phone logs obtained by Channel 10 show he held numerous conversations with Israel Hayom owner Sheldon Adelson and its then editor-in-chief Amos Regev at critical junctures in his premiership, including before elections and during Knesset readings of 'Israel Hayom bill.'
Prime Minister Benjamin Netanyahu held 230 telephone conversations between 2012 and 2015 with the Israel Hayom newspaper's then editor-in-chief, Amos Regev, and 120 conversations with the paper's billionaire owner Sheldon Adelson, it emerged Sunday following a recent court order requiring the prime minister to release his phone records with the two controllers of the influential Israeli daily.

According to the reports on Channel 10, during the period before the 2013 general elections, Netanyahu spoke with Regev 15 times in the space of 19 days.

Some of the conversations took place late at night during which headlines were decided together. On January 17 that year for example, the phone history shows that just five days before Israelis went to the polls, the two held talks at 11:40pm and three days later at 9:54pm.

According to the details, on 12 December 2014—after the bill dubbed "the Israel Hayom law" passed its preliminary reading in the Knesset (a bill proposing the prohibition of free newspapers)—Netanyahu spoke with the casino magnate Adelson on the phone the following night three times between 12am and 1:15am.

Two weeks later on November 29, during a coalition crisis which eventually led to the collapse of the government, Netanyahu spoke with Regev at 11:45pm, the call logs show.

The records also reveal that on 25 January 2015, the prime minister and Regev spoke four times between 10:35pm and 11:56pm. Then on January 31, they spoke twice between 11:37pm and 11:51pm.

The Supreme Court ruled in August that Israeli premier hand over his phone records with Regev and Adelson, the two primary controllers of the pro-Netanyahu distribution, and explained its reasons.

"These are talks between the prime minister and the two most important position holders in Israel Hayom newspaper—the controlling shareholder of the newspaper and its (then—ed) editor-in-chief," the ruling stated.

"It should be added that this is not a mere matter of gossip over the connection between a member of the government and the owner or editor of a newspaper. The connection between the prime minister and Israel Hayom, a popular and influential daily newspaper, has been on the public agenda and has preoccupied the public and the political establishment almost since the newspaper was founded in 2007."

Last week, the first records to become public on the telephone conversations revealed that Netanyahu spoke on average 0.75 times per week between 2012 – 2015 with Adelson. It was the first call log to become public since the Supreme Court's ruling.