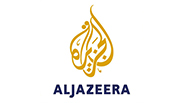 Israeli Prime Minister Benjamin Netanyahu has personally intervened to bar an Al-Jazeera journalist from a government conference on press freedoms that uses the pan-Arab broadcaster as a case study.

Bureau chief Walid al-Omary's exclusion from attending a seminar titled "Limits of free expression: the dilemma between national security and freedom of the press—Al Jazeera as a case study," comes a month after Netanyahu threatened to shut the Qatar-based outlet's Israel offices.

The Government Press Office said Thursday that the prime minister is still pushing to strip Al-Jazeera reporters of their credentials and close their offices, but the move faces legal hurdles.

Last month the office threatened to revoke an Al-Jazeera reporter's credentials after a 2016 interview surfaced in which he expressed support for Palestinian "resistance."

Also last month, Israel said it plans to ban the news network from operating in the country over allegations it incites violence, joining Arab nations that have shut down the broadcaster amid a separate political dispute.

In June, al-Omari defended the network, telling Ynet "We don't incite against Israel or anyone else."