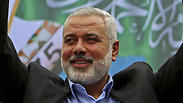 Hamas leader in Cairo to discuss Gaza blockade
Newly elected Hamas Leader Ismail Haniyeh leaves Gaza for first time since winning elections to visit Egypt and discuss its blockade on Gaza, in return for Hamas's assistance in fighting ISIS forces in Sinai; it is yet unclear whether both sides will discuss three Israeli civilians or the remains of IDF soldiers, whom are currently being held by Hamas in Gaza.
The new chief of terrorist group turned political party Hamas, Ismail Haniyeh, arrived in Cairo on Saturday to hold talks with senior Egyptian intelligence officials over its blockade of Gaza. This is Haniyeh's first venture out of Gaza since his election, a spokesman for the organization stated.

In the past few months, Hamas has sought to mend relations with Egypt, which controls their one border crossing and has, under President Abdel Fattah al-Sisi, been highly wary of ties between Hamas and the Muslim Brotherhood, ousted from power by al-Sisi after mass protests.

Hamas controls the Gaza Strip and shares borders with Egypt and Israel. For much of the last decade, Egypt has joined Israel in enforcing a partial land, sea and air blockade of Gaza.

In return for easing the blockade on Gaza, Hamas is willing to aid in Egypt's fight against ISIS forces in the Sinai Peninsula.

It is yet unclear whether the two sides will discuss the matter of three living Israeli civilians and the remains of two IDF soldiers, whom are currently held captive by Hamas in Gaza.

In addition to Haniyeh, the Hamas delegation includes top ranking officials from Gaza and abroad, such as Mousa Abu Marzook and Salah al-Arouri. Hamas spokesman Fawzi Barhoum said the talks with Egypt will focus on alleviating the blockade and mending a longstanding rift with rival group Fatah, headed by Western-backed Palestinian President Mahmoud Abbas.

There was no immediate comment from Egyptian officials on the talks.

Haniyeh was elected Hamas leader in May. The group maintains a sizeable armed wing in Gaza since seizing the enclave from Fatah in 2007.

Israel, which signed a 1979 peace treaty with Egypt and coordinates closely with it on security, is maintaining a close watch on discussions between Egypt and Hamas..