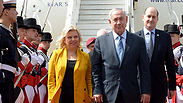 PM and Sara Netanyahu
Photo: Avi Ohayon/GPO
Netanyahu touches down in Argentina
Kicking off 10-day 'historic visit' to Latin America, PM becomes the first serving Israeli premier to land in Buenos Aires, with his El Al plane being the first to land on its soil since the kidnapping of Adolf Eichmann; greeted by a welcoming ceremony, protestors hang pictures labelling him a war criminal, superimposing a Hitler-style moustache on a picture of his face.
Prime Minister Benjamin Netanyahu landed Monday evening in Argentina, kicking off his "historic" 10-day tour of Latin America, making him the ever serving Israeli premier to visit the region.

Accompanied by his wife Sara, who is facing a possible indictment back home for fraudulent activities, the the prime minister descended from the plane where he was greeted by both Israeli and Argentinian diplomats.

The landing of an El Al plane on Buenos Aires's soil is the first time since 1960 when the Mossad paid a visit to the area to kidnap one of the chief architects of the Nazi final solution Adolf Eichmann.

Netanyahus arrive in Argentina (צילום: לע''מ)

Netanyahu is hoping to create a thaw in what has been an icy relationship with regimes hostile to Israel in South America, particularly some of which cooperated with Iran in covering up the 1992 attacks against the Israeli Embassy and against a Jewish community building in 1994.

The current Argentine president Mauricio Macri is considered to be a friend of Israel's.

Before Netanyahu departed for the area, he described the trip as an "historic visit," adding that "this is the first time that an incumbent prime minister has travelled to visit South America and Central America. I asked the families of Foreign Ministry employees who had lost their lives in Buenos Aires to join me."

Ahead of Netanyahu's arrival, pro-Palestinian activists posted signs and posters in Buenos Aires with his picture next to the caption "wanted for human rights crimes and genocide of the Palestinian people."

Other signs displayed a picture of the Israeli prime minister's face with a Hitler-style moustache accompanied by the caption: "Zionists out of Palestine, Netanyahu out."

Deputy and Acting Chairman of the World Zionist Organization, Yaakov Haguel, who heads the struggle against global anti-Semitism strongly denounced the posters.

"We view with severity the signs that are hanging on this historic day, and the World Zionist Organization will continue to fight this plague," he said.

In Argentina Netanyahu will sign a series of agreements on public security, customs and social insurance as well as an archives agreement regarding the Holocaust.

Netanyahu will be joined in his visit to Argentina, Colombia and Mexico by a delegation of Israeli businessmen from the fields of agriculture, water, communications and energy.

Paraguayan President Horacio Cartes will travel to Buenos Aires to meet with the prime minister.

From Argentina Netanyahu will fly to Bogota, where he will meet with Colombian President Juan Manuel Santos. The two countries will sign several joint agreements, including an MOU in science and a tourism cooperation agreement.

Next on his destination list will be Mexico City, where he will meet with Mexican President Enrique Peńa Nieto. The two countries will sign several agreements, including an MOU on space, an aviation agreement, a communications agreement and a MASHAV cooperation agreement.

Netanyahu will attend events with local Jewish communities in Argentina, Colombia and Mexico and meet with community leaders.

At the end of his visit to Latin America, the prime minister will fly to New York to attend the UN General Assembly, where he will deliver an address on its opening day. He is also due to meet with various world leaders, including President Donald Trump.