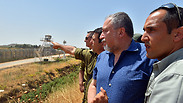 Lieberman at the northern border
Photo: Ariel Hermoni/Defense Ministry
Lieberman warns Syrians any confrontation will 'end badly for them'
After Syria threatens repercussions following airstrike attributed to Israel the state's Scientific Studies and Research Center, Israel's defense minister issues tough warning against following up on threats, warning Syria 'not to test us, because we take threats seriously.'
Defense Minister Avigdor Lieberman on Monday issued a threatening message to President Assad's regime in Syria, saying "I strongly suggest to our neighbors in the north not to try us or make threats," while warning any confrontation would "end very badly for them."

Speaking at a ceremony honoring soldiers of the Bedouin community in Israel, Lieberman repeated the warning that Assad not attempt to test Israel because we take all the threats seriously."

"I do not suggest entering into a confrontation with the State of Israel. Because for them it would end badly, very badly," he said.

The comments came in response to Syrian Deputy Foreign Minister Faisal Mekdad, who threatened repercussions after accusing Israel of carrying out an airstrike last week on the state's Scientific Studies and Research Center.


"The Israeli attack will not divert attention and determination in the war against terrorism supported by Israel" Mekdad said, threatening that "the time will come when Israel will pay the price for its attacks."

Expressing his hope for greater stability in the region, Lieberman nevertheless cast doubt on the possibility in the near future in light of Mekdad's statements.

"We all hope that one day the Middle East will become a region of peace, cooperation and coexistence, but unfortunately, today we also heard threats coming from our northern border, and I am referring to the words of the Syrian deputy foreign minister," Lieberman noted during the ceremony.

Earlier, IDF spokesman to the Arab press, Maj. Avichai Adraee published a picture of himself holding a sign with breaing the words in Arabic saying "If you dare, we will surprise you."

Adraee's display of confidence came after members of the Lebanese-based terror group addressed him with threatening messages in a similar manner during their recent fighting against ISIS and al-Nusra Front on the Syrian-Lebanese border.

Hezbollah responded with posters of their own saying: "If you (even) think about it, we will destroy you."

At the same time, the IDF is in the midst of holding its largest military drill in nearly 20 years—an 11-day combined arms exercise along its border with Lebanon. During the exercise, which involves tens of thousands of soldiers, the IDF simulates war against Hezbollah.

Hezbollah deputy secretary-general Sheikh Naim Qassem said in an interview to the organization's Al-Manar network: "In our assessment, the Israeli drill is not meant to prepare them for a war at the present time," noting that according to their estimations it stems from political consideration and is primarily designed for recruitment purposes. Nonetheless, he added that they are "in constant readiness for war."

Regarding the attack attributed to Israel in Syria, Qassem said that it was not a prelude to the war and that there was no need to blow the situation out of proportion.