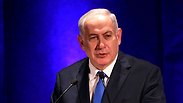 Netanyahu in Buenos Aires
Photo: Reuters
Prime Minister Benjamin Netanyahu warned Iran poses a security threat to the world in a speech Monday at the Argentine Israelite Mutual Association (AIMA) building in Buenos Aires, Argentina.

"Today, just as in the past, Iran instigates terrorism all over the world. Just as two and a half decades ago, when Iran was the one to lit the fuse of the explosive that hit Argentina twice," Netanyahu accused, referring to the attacks on the Israeli embassy in Buenos Aires in 1992 and the AIMA building in 1994, which resulted in the deaths of 30 and 85 people respectively.

"Iran initiated, planned and carried out the terrible terror attacks through its proxy, Hezbollah," he said.

Netanyahu thanked Argentine President Mauricio Macri for his willingness to push for a thorough investigation into the attacks and said that "the time has come to put full responsibility on Iran, publically and definitively. It is time to do justice for the victims. It is time to denounce the accused."

Netanyahu noted the Iranian threat is "a continuous menace and challenge," one that is spreading from the Middle East "in every direction."

The prime minister then assured Israel "has been and will continue to be at the forefront of the struggle against global terrorism. We will continue to act with determination to defend ourselves against the aggression and terrorism of Iran and terrorism in general."

"There is not a single country on earth that is immune to terrorism, not even the countries that are terrorizing. Everyone is hurt by this evil," he continued, but emphasized there are yet some who "spread it knowingly, methodically, and with endless cruelty."

"What has not changed is the source of the terror that attacked this place," he concluded.

Netanyahu's visit to Argentina comes after years of Argentine regimes hostile to Israel, with claims made that some of them collaborated with Iran in covering the attacks on the Israeli embassy and the AIMA building.