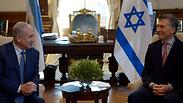 Prime Minister Benjamin Netanyahu said Tuesday he has no intention of resigning despite mounting pressure over a string of corruption investigations, promising instead to lead his Likud party to a "big" victory in the 2019 general elections.

"I don't intend to go to (early) elections, I intend to continue this term until its conclusion and lead the Likud to a big victory in the 2019 elections," the prime minister said during a press conference in Argentina, where he is visiting as part of a 10-day trip to Latin America.

The comments came in response to rumors circulating in Israel that Netanyahu was gearing up to announce his resignation.

"It's nonsense," Netanyahu succinctly dismissed the rumors. "The support for me in the Likud party is so powerful. You have to come and see. Not only to the meetings. Come with me to the streets and see it. I don't remember support like this since 1996, not for me or for my wife. I see tremendous power. There is no other word to describe this."

The remarks were made after the prime minister and his wife Sara participated in a wreath-laying ceremony at the San Martin Palace in Buenos Aires in memory of Argentinian national hero General Jose de San Martin.

Speaking about the 1992 attack against the Israeli Embassy and the 1994 attack against a Jewish community building in the Argentine capital Netanyahu said Iran was responsible.

"We know without a doubt that Iran and Hezbollah were backing and in fact initiated these attacks, and can say Iran's terror has not stopped since then. They have a terror machine that encompasses the entire world, with their sidekick Hezbollah.

"They are operating terrorist cells in many continents, including in Latin America, and the need to fight terrorism, whether from Iran of from ISIS, has now become a concern for all countries."

Also on Tuesday, Netanyahu held discussions with Argentina's President Mauricio Macri and with Paraguayan President Horacio Cartes, who flew to Buenos Aires especially to meet with the Israeli premier.

"I think you're a great friend, and I think that there is a lot of potential in the cooperation we have for the betterment of both our peoples and to help to the extent Israel can offer its experience in technology, agriculture, water, security—all the matters we've discussed and will discuss," Netanyahu told President Cartes.

"We are working very good, though I think that there is much more to do. Relations are like a muscle, you have to practice and work every day. But you have to know we like you very much," Cartes responded.