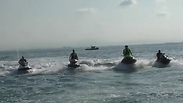 Preparing for Hezbollah jet skis
Photo: IDF Spokesperson's Unit
Israel's navy drills for surprise Hezbollah assault
As IDF continues 11-day drill to bolster preparedness for war on Israel's northern frontier, the navy simulates countering surprise attacks waged by Nasrallah's forces, envisioning scenarios involving jet skis and small motorboats carrying Hezbollah fighters, divers and suicide bombers.
The Navy is drilling fighting off Hezbollah naval commandos mounting a surprise attack on Israel as part of a large-scale amphibious training exercise taking place in the north this week.

Among other scenarios, the Israeli sailors faced a swarm of jet skis and small motorboats carrying Hezbollah fighters, divers and suicide bombers.

The drills are designed to prepare the navy for the most extreme scenarios in any future opening of a military campaign launched by Hezbollah's Secretary-General Hassan Nasrallah.

Israel's naval drills (צילום: דובר צה''ל)

Soldiers from the regular security units of the navy in the north simulated facing Hezbollah commandos to bolster their preparedness for surprise attacks using small vessels, jet skis and speedboats heading for the Israeli coast or attacking Israeli vessels.

Another scenario being considered is the use of jet skies traversing the waters within a matter of minutes without any prior intelligence warning as a diversion from a major assault on Israel's shores in other areas.

Israel's sailors and commandos are also preparing for the event that such an attack may be accompanied by a heavy salvo of mortar shells fired by Hezbollah towards the Israeli coast, with each wearhead containing between 100-200 kilograms of explosives.

The training exercises also included the use of an armada to stave off assaults from the sea along with the employment of unique recently-upgraded combat techniques to thwart the threat.

The navy and the IDF's ground forces also trained to face Hezbollah's special unit cells—many of which are currently fighting in Syria and gaining experience—infiltrating Israeli communities near the Lebanese border with the sole aim of kidnapping Israeli civilians.

"This is absolutely a scenario that could open the next war in the north," a naval officer who participated in the drills told Ynet.

"We want this kind of scenario to end at sea, even though we may have to take the fight against the threat to the shores," he added, before explaining why the IDF's familiarity with the area gave it the strategic edge.

"The soldiers who acted as the enemy in the exercise also serve in the area, they know our weak spots so this was an advantage for the training forces."

In the Northern Corps exercise, the largest in the IDF since 1998, tens of thousands of people participated from the army, including reservists.