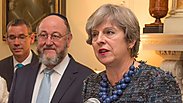 Theresa May
Photo: UK gov.
British Prime Minister Theresa May hosted the leaders of the UK's Jewish community on Wednesday for a festive dinner in honor of the Jewish New Year, taking the opportunity to express her support for Israel and the UK's Jewish community and her efforts to aid with the security of both.

"We look forward to (marking) the centenary of the Balfour Declaration in November," she opened. "Born of that letter, the pen of Balfour, and of the efforts of so many people, is a remarkable country.

"Of course, there are great challenges in the region, and we will do everything we can to support efforts towards building a two-state solution and the lasting peace that we all want to see."

May segued to her support of the Jewish state, saying "as Prime Minister, I am proud to say that I support Israel. And it is absolutely right that we should mark the vital role that Britain played a century ago in helping to create a homeland for the Jewish people."

Moving to more pressing issues, tackling concerns regarding the rise of anti-Semitism in the UK, May spoke about her efforts to ensure the safety of her Jewish citizens.

"I want you to know that I will always do whatever it takes to keep our Jewish community safe," she said. "Through our new definition of anti-Semitism we will call out anyone guilty of any language or behavior that displays hatred towards Jews because they are Jews.

"We will actively encourage the use of this definition by the police, the legal profession, universities and other public bodies. But the ultimate way of defeating anti-Semitism is to create an environment that prevents it happening in the first place."

Theresa May hosts Rosh Hashana dinner (צילום: @Number10gov)

May then noted that this is one of the reasons that she plans to "erect a monument to the memory of the Holocaust," set to stand next to the parliament building, and its design will be determined in accordance with a decision by a panel of judges to be held this weekend.

"It will be a constant reminder of what may happen when a civilized society allows its members to attack others without consequence," she said.

Finally, she added that the monument will be accompanied by an "educational center that will teach future generations to fight hatred and prejudices of all kinds."

The dinner at the British Prime Minister's official residence at 10 Downing Street was attended by senior members of the Jewish community, including the Chief Rabbi of Britain, Ephraim Mirvis.