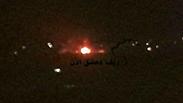 Airstrike near Damascus airport, Friday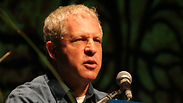 Major-General (res.) Giora Eiland
Photo: Ofer Amram
Despite alleged Israeli strikes, Hezbollah will keep building its arsenal
Op-ed: While our enemies are willing to occasionally sacrifice targets that are allegedly destroyed by Israel, they have found alternative ways to transfer advanced weapons from Iran through Syria to Lebanon. In addition to its efforts against Hezbollah's precision missiles, Israel must ensure that the next war is short.
Last Friday, according to foreign sources, Israel attacked a military target in the Damascus airport once again. There seems to be a routine of Israeli strikes in Syria, which no longer interests anyone. The Syrians, Iran and Hezbollah don't seem too excited by it either. Have they come to terms with the successful Israeli preventive measures? Are they failing to respond because the Israeli deterrence is still very effective? Is Russian pressure stopping them from acting? I'm afraid there may be a different explanation.

Our enemies are willing to occasionally sacrifice means or targets that Israel allegedly manages to destroy, but at the same time, they have found other ways to transfer the advanced weapons from Iran through Syria to Lebanon. This isn't particularly complicated in light of three things: One, the Syria-Lebanon border is 300-kilometers long, and most of the area is tree-covered and mountainous; two, hundreds of trucks travel from Syria to Lebanon every day; three, there is no one between Tehran and Beirut who is interested in and capable of thwarting this activity.

There's no escape from concluding, therefore, that despite the alleged Israeli thwarting operations, Hezbollah will continue building its power almost undisturbed. The Israeli activity is reportedly focused on an attempt to prevent Hezbollah from receiving or producing precision missiles. That is, undoubtedly, the preferred target. There is a huge difference between the damage potential of precision weapons and statistical weapons. Israel is a small country with a small number of vital sites and low redundancy. If power stations, airport, seaports, railway stations or hospitals are damaged in the next war, Israel will pay an almost unbearable price—in addition to hundreds of casualties.

There are two conclusions from this serious change in the nature of the threat. First of all, Israel should keep trying to stop Hezbollah from arming itself with accurate weapons. However, as I doubt we will be able to prevent that over time, the second conclusion should be stressed: If someone opens fire at Israel from Lebanon, dragging us into the "third Lebanon war," we must not let the war last 33 days like in 2006. A long war will cause intolerable damage to Israel's military and civilian infrastructures.

The only way to ensure that the next war is short requires us to fight the state of Lebanon, not just Hezbollah. Israel can destroy Lebanon's infrastructures and army within several days. Since there is no one in the world—neither the Lebanese nor Hezbollah, Syria or Iran, and of course Saudi Arabia, France, Russia and the United States—who wants to see Lebanon destroyed, it will lead to massive international pressure to reach a ceasefire within a week or less, and that's just what Israel needs.

Reaching such a decision in real time, when the conflict erupts, is insufficient. Israel should already start conveying this message, for two reasons: First of all, we will achieve deterrence and possibly prevent the next war since, as mentioned, no one in the world wants to see Lebanon destroyed. Second, if a war does break out in the end, it's important that the Western states—at least the US—understand in advance that Israel chose this strategy having no other choice. Unfortunately, Israel is conveying the opposite messages.

About a week ago, at the end of the major military exercise in northern Israel, the defense minister and army chiefs conveyed the message that Israel is capable of defeating Hezbollah. That's a mistake. Even if Israel wins, but the war lasts about five weeks like in 2006, we will all pay a huge price which we will have trouble living with.

Major-General (res.) Giora Eiland is a former head of Israel's National Security Council.