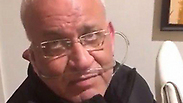 Palestinian chief negotiator at top of US transplant waiting list
Chief Palestinian negotiator with Israel and secretary-general of the Palestine Liberation Organization's executive committee Saeb Erekat announces he is at the top of the national transplant waiting list for organ transplants in the US, where he awaits a lung transplant; 'I put my trust in Allah and entrust my fate to Allah.'
Top Palestinian official Saeb Erekat, who has negotiated with Israel for the past 20 years, has informed the Palestinian people that he is at the top of the national transplant waiting list in the US, where he awaits a lung transplant.

Erekat, who also serves as secretary-general of the Palestine Liberation Organization's executive committee, suffers from pulmonary fibrosis, which is characterized by the development of scars in lung tissue, making it difficult for them to function properly.

"I put my trust in Allah and entrust my fate to Allah," said the 62-year-old politician in his video message to the people.


Erekat was diagnosed more than a year ago with the illness and so far has been treated with drugs. A few months ago however, his medication stopped being effective, causing a dramatic deterioration in his condition.

Erekat began medical treatment in one of Israel's hospitals in the center of the country, where doctors informed him that he would need to undergo a lung transplant if he were to stand any chance of survival.

Since then, he has been on the waiting list for a lung transplant in the US.

Erekat did attempt to register on the waiting list in Israel but according to the Ministry of Health and the National Transplant Center, only citizens of the State of Israel can register on the national waiting list. Erekat was not eligible since he is only a resident of Israel, not a citizen.

The order of patients on the transplant list is determined according to medical criteria only, without exceptions, starting from those who are most in need.

In cases where no Israeli patient is found to be an appropriate match with a donated organ, it is legal to transplant it in a person who's not an Israeli citizen, subject to the consent of the donor's family, and in coordination with the transplant center. Such cases are considered extremely rare.

The Ministry of Health has been asked, beyond the letter of the law, to make an exception and include Erekat on the waiting list. However, citing legal reasons, the Ministry of Health said it could not grant this exceptional request due to a commitment to preserve the integrity of the procedures for the allocation of organ donations.