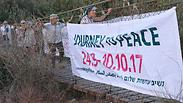 Journey to Peace
Photo: Women Wage Peace
Some 500 women from across Israel's political spectrum participated in the launching of the "Journey to Peace" campaign initiated by the Women Wage Peace grassroots movement on Sunday, calling for the implementation of a political peace agreement to end the Israeli-Palestinian conflict.

The "journey"—a march taking participants across Israel—began in Sderot and the western Negev, and will be interposed with events throughout the country in Dimona and the Arava, in the Gaza and Ashkelon vicinity, in Tel Aviv and in Nazareth.


The events will end on October 8 at a mass rally in Jerusalem's Independence Park, where the world's largest peace tent will be erected and the "Women's Parliament of Women Wage Peace" will be launched, with the aim of motivating politicians on both sides of the conflict to work towards a political peace agreement.

Among the participants at the launch ceremony were MK Amir Peretz (Zionist Union), MK Yehuda Glick (Likud), MK Haim Jelin (Yesh Atid), Eshkol Regional Council head Gadi Yarkoni, Bnei Shimon Regional Council head Sigal Moran, Sha'ar Hanegev Regional Council head Alon Schuster, singers Yael Deckelbaum and Miriam Toukan and others.

Thousands of Palestinian and Israeli women from across the country and the Israeli political aisle are expected to join the march.

MK Amir Peretz praised the initiative. "Women Wage Peace is a real, authentic, important and necessary thing, at this time more than ever. You are the ones who cause everyone not to despair, to continue to dream and to continue to think in the best way, because even the worst peace is better than war."

MK Yehuda Glick agreed, lamenting the dichotomy which has formed in Israeli society.

"Unfortunately, in recent years, Israeli society has been characterized by a discourse of polarization, lack of listening and lack of understanding," he said. "It is important that we understand that no one has the whole truth, no matter what political camp you are in. It is important that we maintain our ability to see clearly and to not exaggerate reality. I have no doubt that peace is much closer than what others may imagine."