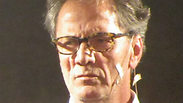 Mohammad Bakri. Adding fuel to the fire of hatred
Photo: Merav Yudilovitch
Mohammad Bakri, enemy of the Palestinians
Op-ed: With an official apartheid policy, Lebanon is the worst country in the world for Palestinians, but the Israeli Arab filmmaker couldn't care less about the facts. His incitement is directed at Israel, because propagandists nurture deception—especially self-deception.
The Israeli Arabs' disaster is manifested in people like Knesset Member Hanin Zoabi, Sheikh Raed Salah and filmmaker Mohammad Bakri.
According to every single poll, most Israeli Arabs are loyal citizens—something that must be mentioned repeatedly. Most of them support the two-states-for-two-people solution, recognizing Israel—directly and unequivocally—as a Jewish and democratic state; volunteer rates for community and national service among young Israeli Arabs are growing, in spite of the political leadership's defiance; furthermore, according to the Israel Democracy Institute, 55 percent of Israel's Arabs are "proud to be Israelis."
This situation bothers strife mongers like Bakri, who has made every effort to create the opposite impression. His film Jenin, Jenin has already been officially recognized as false propaganda. But a person like Bakri doesn't stop. He has gone all the way to Lebanon to screen his films, which were made "under the occupation government." It's not that people there are in need of incitement against Israel, but Bakri went there to add more fuel to the fire of hatred.
The Arab world does have, after all, a movement that supports peace and reconciliation. In light of what is going on in Syria, Libya, Yemen and Iraq, it should already be clear the enemies are not the Zionists, but rather the Islamists—Sunnis or Shiites. And of all the different movements, Bakri chose to give an interview to a Hezbollah-affiliated newspaper, to convey the following messages: "Normalization with the Zionist enemy is treason."
In Lebanon of all places? Why, even if Israel tries, and it won't, it won't reach one-tenth of the oppression and killing the Palestinians have been subject to from Lebanon or from Hezbollah forces in Syria. Because Lebanon has adopted an official apartheid policy. The Palestinians have no right to use the country's health services, they have no right to own any property and they are banned from a long list of occupations.
The Palestinians' descendants have been living in Lebanon for decades, but have yet to be granted citizenship. To be more accurate, the Christians and the Shiites, who arrived following the Nakba, did receive citizenship. But the Sunnis, who are the large majority, didn't. Both groups are no longer Palestinians; they are Lebanese for all intents and purposes. But they are inferior Lebanese. According to a 2010 report, 56 percent of them are unemployed, and according to a UN Refugee Agency report from last year, their situation has only gotten worse.
The former grand mufti of Lebanon, Sheikh Mohammed Rashid Qabbani, referred to the Palestinians as "unwanted trash," and the Lebanese are about to complete the construction of a separation wall around the Ain al-Hilweh refugee camp. Because that's what should be done to those unwanted "brethren," although they are members of the same families, the same religion, the same language and the same culture. The result is great misery.
According to every possible parameter, the Arabs' situation under Israeli rule—within and beyond the Green Line—is far better than the situation of their brethren in Lebanon. Bakri visited refugee camps near Beirut and saw the poverty and the misery there, but his incitement was directed at Israel. That's what propagandists do. They nurture deception, especially the worst deception of all—self-deception.
Bakri arrived in Lebanon to attend the Palestinian Days film festival, which was dedicated to him and to his work. It's the worst country in the world for Palestinians—not as a result of a temporary crisis, but as a matter of policy— but to hell with the facts. He didn't go there to improve his brothers' situation. Between working for Palestinian prosperity and inciting against Israel, Bakri—just like Hamas—has chosen incitement. That's the only thing that matters, and to hell with the Palestinians.
Culture Minister Miri Regev is wrong to demand an investigation against Bakri. That's exactly what he wants. That's exactly how he will turn into a martyr. There's no need to give him the pleasure. He should be presented as the enemy of the Palestinians, because that's what he is.