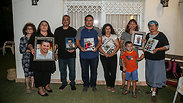 Representatives of the bereaved families
Photo: Yariv Katz
Bereaved families fight for harsher prison conditions for terrorists
A group of people who lost family members in recent terror attacks is establishing an advocacy group to promote harsher sanctions on terrorists on their families; 'The time has come to impose a death sentence on convicted terrorists,' says Hadas Mizrahi, who lost her husband in a shooting attack.
A group of bereaved families is currently setting up an association to fight what they say is the government's lenience in its treatment of convicted terrorists and their families.

More than 40 bereaved families are expected to take part in establishing the association, which will lobby for stricter conditions for terrorists imprisoned in Israel and harsher sanctions on the families of the terrorists, such as deporting them, denying them employment and demolishing their homes.

A group of Israelis who lost loved ones during the 2015-2016 wave of terror attacks have been calling for harsher sanctions on terrorists and their families over the past two years.

A few weeks ago, after holding several meetings with politicians and public figures, including Prime Minister Benjamin Netanyahu, representatives of the aforementioned group reached the conclusion nothing new was being done about the treatment of the terrorists and their families—and decided to take action themselves.

"Ever since Danny was murdered two years and four months ago, I no longer have sun in my life. I dedicate my life to ensure this will not happen to other citizens of this country," said Dvora Gonen, whose son, 25-year-old Danny Gonen, was murdered in a shooting attack in the Binyamin region of the West Bank.

After the attack, Dvora said, "I unfortunately discovered how terrorists imprisoned in Israel are treated. It's absurd, we completely lost our deterrence. The government knows what needs to be done. They make promises to the bereaved families, but in practice they do nothing. We decided to put an end to it."

Rina Ariel, the mother of 13-year-old Hallel Yaffa Ariel who was murdered in her bedroom in Kiryat Arba a year and a half ago, plays an active role in the establishment of the association. She believes the national discourse must change.

"We as a society and as a government don't do enough," she said. "We must increase deterrence, deny citizenship to terrorist families, and carry out more house demolitions."

"At the same time, we must understand it cannot be allowed for a terrorist to come out alive from an attack," she added. "We must not feel sorry for savages. The 17-year-old boy who murdered my daughter was incited to violence by people around him, and they have to suffer for it as well."

Hadas Mizrahi, who lost her husband Baruch Mizrahi in a shooting attack on the way to Kiryat Arba, in which she was also wounded, said, "I demand the government to demolish the house of the terrorist's family and even expel them immediately, and I have no doubt the new association will help."

"It is inconceivable that those released in the Shalit deal will go free and kill our loved ones. The time has come to impose a death sentence on convicted terrorists," she added.

Im Tirtzu, a right-wing NGO, is aiding the families in establishing the association.

"Terrorists enjoy the rights and benefits criminal prisoners can't even dream of," said Matan Peleg, the NGO's director. "This is unacceptable."